Do you know what Max AdBlock is?
If you are researching the removal of Max AdBlock, also known as Maximum AdBlock, you must have found this suspicious extension on your Mozilla Firefox browser. Even though it is possible to download this questionable browser add-on from addons.mozilla.org/en-US/firefox/addon/maximum-adblock, most users start researching this program after trying to delete junk software. Since Max AdBlock is only compatible with older versions (4.0-4.6) of Firefox, it is not surprising that most users have already forgotten about installing it. Of course, if you have not updated your browser in some time (for example, if you have no used the computer for years), you might have been offered to install this extension. Whatever the history is, you now need to delete Max AdBlock.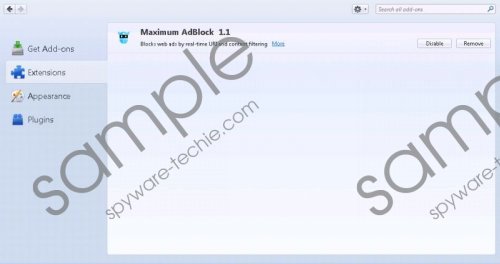 Max AdBlock screenshot
Scroll down for full removal instructions
Even though Max AdBlock is introduced to users as a tool that "erases Ads," our research indicates that this program is absolutely useless and, therefore, deserves removal. Even the comments on the download page we have mentioned previously indicate that this program does not remove all ads or it does not work at all. This is not that surprising considering that Max AdBlock has not received an upgrade in four years, which suggests that the developers of this program no longer support it. Our research team has tested the suspicious add-on on the compatible Firefox version, and it was found that it does not possess the technical capabilities to function as a legitimate ad-blocker. Needless to say, it is a waste of space to leave Max AdBlock running on your PC, which is the main reason you should delete it right away.
When it comes to ad-blockers, there are hundreds of different tools created by different parties. As you can imagine, Max AdBlock is not the only useless one. In fact, it is not the useless add-ons that you need to fear, but the ones that are malicious. Cyber criminals could easily create unreliable programs with malicious codes to look as legitimate ad-blockers. If you install this kind of software, there are hundreds of different things that could happen to your virtual security. For one, you could suffer identity theft! Even though we do not say you have to remove Max AdBlock as a malicious infection, this extension cannot protect you from potentially misleading ads, which might turn it into an accessory of cyber crime. Follow the removal guide below to delete Max AdBlock from your PC, and then find yourself a legitimate ad-blocker to serve the purpose right.
Delete Max AdBlock from Firefox
Open the browser.
Simultaneously tap Ctrl+Shift+A to launch Add-ons Manager.
In the menu on the left click Extensions.
Remove the undesirable extension and restart your browser.
In non-techie terms:
Max AdBlock is meant to offer beneficial services, but it cannot do that. This outdated piece of software is completely inadequate, and, if you trust it to block advertisements, you will be disappointed. Even though it is unlikely that your virtual security will suffer if you do not remove Max AdBlock, it will definitely suffer if you do not install reliable security software. This software is created to block access to malicious sites, identify and quarantine threats, remove malware, and protect your virtual identity. If you do not install this software, your virtual security will be at risk every time you surf the web.