Do you know what Masterlock@india.com Ransomware is?
Masterlock@india.com Ransomware is one of the few ransomware infections that have appeared several months ago, and they are still terrorizing users around the world. The program is practically just another version of Redshitline Ransomware, Ecovector3@aol.com Ransomware, Vegclass@aol.com Ransomware, Green_ray Ransomware, Alex.vlasov@aol.com Ransomware, and other dangerous infections. All these malicious programs are based on the CrySIS Ransomware program, so it means that we can apply the same removal methods for them all. For more detailed removal instructions, please scroll down to the bottom of this description. Following those instructions, you will surely be able to remove Masterlock@india.com Ransomware for good.
Ransomware programs often arrive when you expect that the least. They are able to trick unsuspecting users into installing them. This happens because the installer files for these programs are disguised as genuine .pdf or .doc files, and they often come with spam email attachments. For instance, if you have received a new invoice from an online store when you do not remember having bought anything, you should definitely refrain from opening the attachment. After all, an attachment should be included in the email itself, so if some message urges you to download and open the attachment, you should think twice before you do that. For all its worth, you could download a malware installer file.
Once this dangerous infection enters your computer, it runs a full system scan. Ransomware programs need to scan the system to locate all the files they can encrypt. Masterlock@india.com Ransomware uses the RSA-2048 encryption key, and it makes it virtually impossible to decrypt your files unless you have the decryption key. Can you image where this decryption key is? Of course, the criminals are in possession of it, and they try to make you pay for this key by saying that it is the only way to restore your files. This program, actually, is not that eloquent about the entire infection, it just says that "To get the key write to masterlock@india.com."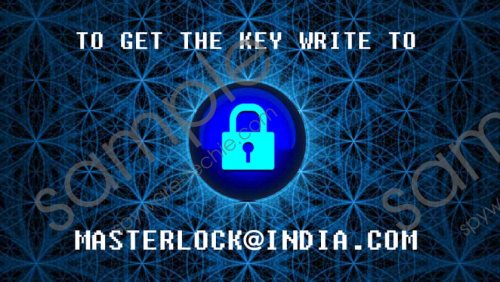 Masterlock@india.com Ransomware screenshot
Scroll down for full removal instructions
Supposedly, when you contact the criminals behind this attack, they will ask you to send yet another email with a sample of an encrypted file. This way, the hackers will be able to confirm that you have been infected by their program, and your computer will be identified. Then they will issue a few more emails, telling you how to acquire bitcoins (the currency used to pay for the decryption key) and how to transfer the payment to their account. Of course, we strongly discourage you from doing that because no one can tell whether this program will surely issue a decryption key for you.
Perhaps it seems that these programs and the hackers behind them rule the Internet, but that is not true. They also depend on third-party servers and communication services, which are often very unstable. It is more often than not that ransomware servers die, and then the affected users cannot contact the hackers again. Worse: if the users transfer the payment, and the server dies, there is no way they would receive a decryption key then. So, the bottom line is that you should never do that in the first place.
This is where the back-up drives come into the picture. You surely have some place where you saved copies of your most important files. When you remove Masterlock@india.com Ransomware from your computer, you can transfer all your files back to your clean computer.
How to make your computer clean again? Just follow the instructions below, and you will be able to delete Masterlock@india.com Ransomware manually. But if this seems too complicated, you can always rely on a powerful antispyware tool that will delete the infection and will terminate other malicious files that could be present in your system.
After all, malware infections seldom travel alone, so you will do yourself a favor if you run a full system scan with the SpyHunter free scanner right now. When you get rid of all the potential threats, please get yourself a legitimate antispyware tool that will protect you from similar intruders in the future. Finally, do not forget to employ safe web browsing habits because the way you behave on the Internet also matters a lot.
How to Remove Masterlock@india.com Ransomware
Press Win+R and type %APPDATA% into the Open box.
Click OK and navigate to Microsoft\Windows\Start Menu\Programs\Startup.
Delete the random name .exe file and press Win+R.
Type %ALLUSERPROFILE% into the Open box and click OK.
Navigate Microsoft\Windows\Start Menu\Programs\Startup and locate the random name .exe file.
Delete the file and press Win+R. Type %WINDIR% and click OK.
Open the Syswow64 folder and delete the random name .exe file.
Open the WINDOWS folder again and go to System32.
Locate and remove the random name .exe file.
Press Win+R and type regedit into the Open box. Hit Enter.
Open HKEY_CURRENT_USER\Control Panel\Desktop.
Right-click the Wallpaper value on the right.
Delete the value or change the wallpaper path. Click OK.
Open HKEY_CURRENT_USER\SOFTWARE\Microsoft\Windows\CurrentVersion\Explorer\Wallpapers.
On the right, delete the value C:\Users\user\Decryption instructions.jpg.
Navigate to HKEY_LOCAL_MACHINE\Microsoft\Windows\CurrentVersion\Run.
On the right, right-click and delete and the following values:
%WINDIR%\Syswow64\*.exe
%WINDIR%\System32\*.exe
In non-techie terms:
If the instructions are too complicated for you, please let us know and we will guide you through the process step by step. You have to understand that Masterlock@india.com Ransomware is a new type of infection that will not let go unless you remove it for good. Thus, take all the measures necessary to make sure to terminate this infection from your system. Finally, stay away from unfamiliar websites, and do not open attachments that comes with email messages from unknown senders.