Do you know what Mass Sea is?
Mass Sea is an adware program that comes from a big family of similar applications. The fact that the program is part of a huge group of similar apps means that you know how to deal with it in advance. Perhaps you will be perplexed to see this application on-board, but there is no time to waste. Please bear in mind that you may need to delete quite a few unwanted applications because Mass Sea is clearly not the only undesirable product installed on your computer. Hence, do yourself a favor and run a full system scan with a licensed antispyware tool immediately.
It is not uncommon to find a program that has an official website, but does not come with a direct download link. In fact, it is something we expect from the adware programs because usually they employ other distribution methods. For example, it is very likely that Mass Sea was installed on your system with several other applications. We have solid grounds for believing that because our research team suggests this program travels in software packages. This would mean that users download and install this adware application themselves without really understanding that.
How does that happen? The answer is rather simple. All it takes is one single click on some download button and off you go. Perhaps you have been looking for a video codec? Or maybe you need a file converter? If you find such programs on a file-sharing website, you need to be really careful when you download them because it is very likely the third-party installer bundles additional apps like Mass Sea. Of course, you can easily avoid installing adware if you check every single step of the installation wizard. However, users tend to breeze through these steps automatically because they do not understand what kind of danger might lie behind it.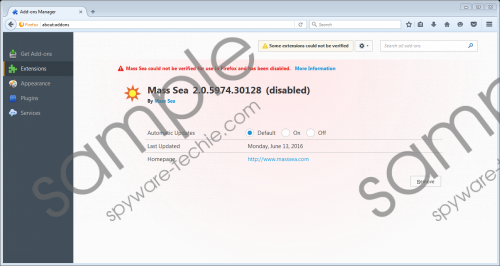 Mass Sea screenshot
Scroll down for full removal instructions
Truth be told, Mass Sea is not an extremely malicious computer infection. As mentioned, this adware program is just another clone of Wander Burst, Blazer Deals, Gravity Space, Jungle Net, Deals Avenue, Glass Bottle, and many others. The files of this program are signed by Course Blue, and the application itself is based on the Injekt engine. Seeing how we have encountered an extremely big number of adware apps based on the same engine, there is nothing particularly shocking about this one, too. The most important thing is to not leave it on your computer for too long.
Technically, this application is similar to the SuperWeb adware programs. It means that the program connects to the Internet behind your back to download and upload data. In Mass Sea's cases, it connects to masssea-a.akamaihd.net to load commercial advertisements. Although adware programs cannot record your key strokes and they do not target your financial information, there is still a possibility that this app may lead you to far more serious security problems. Thus, you need to consider all the potential risks and deal with them in no time.
Why could Mass Sea be dangerous? The problem is that the adware application cannot modify the third-party content that appears in its ads. As a result, any third party could embed their content into these ads and get some free advertising space. What's more, if the adware application is exploited by malevolent third parties, the links in the ads might redirect you to dangerous websites that could be part of malware distribution networks. As you can see, even though this adware application does not intend to infect you with malware (its only objective is to make easy money), there is always a chance that things can go terribly wrong.
So what do you do about it? Obviously, you have to remove Mass Sea immediately. Simply open the Control Panel and uninstall the program. Granted, this may not be enough to protect your computer from harm. To be absolutely sure that your system is fully protected against similar issues, scan it with the SpyHunter free scanner. A full system scan will definitely detect more potential threats, especially if the adware program has entered your computer via a bundled software package.
Terminate all the potential threats at once. To safeguard your system against similar security issues, get yourself a powerful antispyware tool. Should you have any further questions about computer security, do not hesitate to leave us a comment.
How to Remove Mass Sea
Windows 10 & Windows 8.1
Press Win+R and the Run prompt will open.
Type Control Panel and click OK.
Go to Uninstall a program and remove the application.
Windows Vista & Windows 7
Open the Start menu and click Control Panel.
Select Uninstall a program and remove the adware program.
Windows XP
Click the Start button and select Control Panel.
Go to Add or remove programs and uninstall the adware app.
In non-techie terms:
You do not need to be infected with a Trojan to experience potential security threats. Mass Sea is just a random application that displays annoying commercial ads, but even so it can still expose you to severe security issues. Do what is best and remove Mass Sea from your system right now. While you are at it, make sure you get rid of all the other unwanted programs, too. Your computer's security should be your utmost priority.