Do you know what MartianArcade is?
MartianArcade is an adware program with the primary function of an arcade gaming console. However, in exchange for letting you play online games via your browser, this application displays a lot of commercial content. While some of the content is more annoying than dangerous, there is always a chance that you could get infected with dangerous programs if you accidentally click an ad that redirects you to dangerous websites. Thus, it is in your best interest to remove MartianArcade from your system at once. You can uninstall the application via Control panel, but that might be just one of the many security problems you will face.
The reason we talk about multiple security problems is associated with the MartianArcade application's distribution practice. Of course, it is possible to download this program from the official website that is located at martianarcade.com. But users who complain about this application, most probably, did not plan to have it installed. Thus, there definitely is another way for the adware application to enter your system. And that is: software packages. It means that one installer may carry several applications, and all of them get installed simultaneously.
This usually happens when a user downloads freeware applications from third-party sources. There are a lot of file-sharing websites out there that offer users to download multiple freeware applications, and users do that without reading all the important steps in the installation wizard. More often than not, it is possible to avoid installing MartianArcade and other unwanted applications, if you were to check what programs these third-party installers offer you. Unfortunately, users tend to breeze through the setup, thinking that default settings are okay, and there should be no problem about it.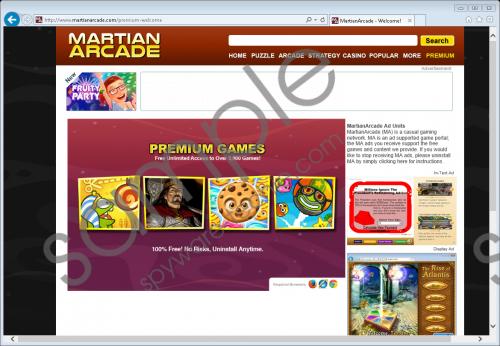 MartianArcade screenshot
Scroll down for full removal instructions
Of course, now that MartianArcade is on your computer, you must have realized that there are always issues waiting to arise, especially if you are not careful about what you install on your PC. What's more, there is not much to blame on the program itself. Its Privacy Policy explicitly states that "Premium Games are offered free of charge on the Site in exchange for your agreement to install the MartianArcade software or add-on/extension (collectively, the "Software"). The Software will allow us to display third party applications as well as text link, popup/under, transitional, shopping, and/or banner advertisements on your computer based on the web content viewed by you."
As you can see, the application tells you that it WILL display commercial advertisements, and the content will be related to what websites you visit. This also means that the application will monitor your online activities via tracking cookies. All of the information on your web browsing history will be shared with the third parties that embed their content into the MartianArcade ads. When the ad content is related to your browsing history, there is a bigger chance that you will click those ads. And so, there is a bigger chance that the program will make some money through you.
Of course, MartianArcade does not steal your banking details, and this application does not try to infect you with malware. However, the program could easily be misused by cyber criminals for corrupted content promotion and what not. Thus, in the worst case, this could result in a malware infection or a personal identity theft. Needless to say, the best way to avoid this is to remove MartianArcade right now.
And while you are at it, you should also consider scanning your PC with the SpyHunter free scanner. A full system scan will locate and list all the potential threats that might have entered your PC with MartianArcade. What's more, a computer security program of your choice will help you delete all the malicious files that you would otherwise miss during manual removal. Also, once the threat removal is complete, the program will protect your computer from other intruders that you may accidentally install on your PC in the future.
If you download such programs willingly, make sure to read all the installation steps one by one, and deselect the applications you do not need or want. The less unfamiliar programs you install, the less security-related problems you will have in the future.
How to Remove MartianArcade
Windows 10 & Windows 8.1
Press Win+R and type Control Panel.
Click OK and go to Uninstall a program.
Highlight the application's entry and click Uninstall.
Windows Vista & Windows 7
Click the Start menu button and go to Control panel.
Open Uninstall a program and remove the adware app.
Windows XP
Press the Windows key and navigate to Control panel.
Select Add or remove programs and uninstall the adware app.
Delete the MartianArcade Extension
Firefox
Press Alt+T and click Add-ons.
Go to Extensions and remove the extension.
Chrome
Press Alt+F and click More tools.
Open Extensions and remove the plug-in.
In non-techie terms:
MartianArcade is one of those applications that are really far from malware apps, but they could still cause you some security-related problems if left unattended. Do yourself a favor and remove MartianArcade right now because this adware application will bug you with lots of pop-ups, exposing you to potentially corrupted content. Also, you should check your PC for more unwanted programs because this adware app seldom travels on its own.