Do you know what Marlboro Ransomware is?
If the malicious Marlboro Ransomware has invaded your operating system, your personal files, as well as files used by different software might have been encrypted. Although the ransomware itself claims that AES and RSA encryption algorithms are employed to encrypt data, our research team has found that it is the XOR algorithm that is used for the encryption. Another thing that our team has found was that there are several different versions of this infection. The two most common versions were specifically created for Windows operating systems running on 64 bit or 32 bit. The third version of this infection might be regarded as a different infection altogether, and we might report it by a different name. Although we do not know much about this third version – or even if it exists – it is most likely that you can use the same tips to delete it or to guard your operating system against it. In this article, we discuss the removal of Marlboro Ransomware, and you should continue reading if you want to learn more.
When the devious Marlboro Ransomware encrypts your files – which it is most likely to do after you open a corrupted spam email attachment – it is likely to add the ".oops" extension to all of them. Though it is terrible that your personal files were encrypted, it is good that the ransomware attaches a unique extension to their names because that might help you figure out quicker which ones of your files were corrupted. According to our research, there are a ton of different file types that this ransomware targets, including DOC, PNG, PDF, WMA, ZIP, XML, JAVA, and JPG files. Obviously, this infection targets your personal files because you are more likely to want to save them. Let's say Marlboro Ransomware encrypts your main browser file. Although it can cause many problems, it is extremely easy to replace this file by downloading it onto a different computer and then transferring it using an external drive. This cannot be done with your personal files, unless they are stored in backup. Unfortunately, because of this, many users are pushed into paying a big ransom fee represented via a ransom note.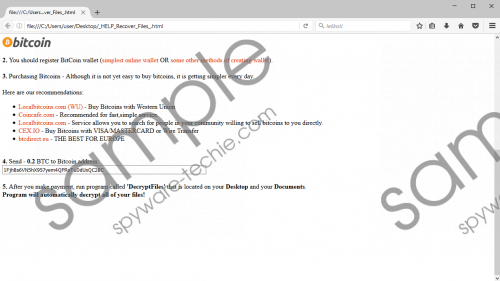 Marlboro Ransomware screenshot
Scroll down for full removal instructions
The malicious Marlboro Ransomware creates a file called "_HELP_Recover_Files_.html" on the Desktop as soon as the encryption is complete. This file opens a web page that provides you with instructions on how to pay a ransom fee of 0.2 Bitcoins. Since this currency is unstable, we cannot say how this sum converts at the time of you reading this report, but, at the time of research, it converted to $178 or €166. We are sure that some users will pay the price right away because of the statement suggesting that all files would be decrypted as soon as the money was paid. Can you trust this statement? When it comes to cyber criminals, nothing can be trusted. The good news is you do not need to pay the ransom! The word on the street is that a free file decryptor exists that can help you unlock your personal files. Hopefully, you find this tool soon. Once you do, do not forget to delete Marlboro Ransomware. If you know how to deal with malware, follow the guide below to erase the infection manually. If you are inexperienced, install anti-malware software instead to have all threats erased automatically.
Remove Marlboro Ransomware
Launch Task Manager by tapping Ctrl+Shift+Esc keys.
Move to the Processes tab.
Look for an unfamiliar process. If found, select the process and choose End Task/End Process.
Launch Explorer by tapping Win+E keys.
Enter the following directories into the bar at the top (one by one) to look for the malicious file:

%TEMP%
%USERPROFILE%\Desktop
%USERPROFILE%\Downloads

Delete the malicious ransomware file (it could be introduced to you as a Word Document or an .exe file, such as SimpleMalwareProtectorSetup.exe).
N.B. If you cannot identify malicious processes and files yourself, install a legitimate anti-malware tool to find and terminate/erase them automatically.
In non-techie terms:
Although Marlboro Ransomware encrypts your personal files, it is most likely that you can recover them using a free third-party decryptor. If this option does not work for you, maybe your files are backed up, and you can recover them from backup? If all fails, you might think about paying the ransom fee, but remember that you might be disappointed by the results because cyber criminals are not known for keeping their promises. You can delete Marlboro Ransomware from your operating system using the guide above, or you can install an automated malware remover. We suggest the latter option because such software is usually also capable of producing full-time protection that you need if you want to keep your PC protected against malicious infections in the future.