Do you know what MapsScout is?
MapsScout is a browser extension, which should enhance your web browsing experience. However, it is highly doubtful whether you really need an application like that. This program might expose you to unreliable third-party content, and it could result in a variety of cybersecurity issues. It would be for the best to remove MapsScout from your system today. If you are eager to get rid of this application, make sure to check out the manual removal instructions we have prepared below. Also, you would do yourself a favor if you invested in a licensed antispyware tool.
There are definitely security researchers who would like to categorize this extension as an adware program. To tell you the truth, it's not that far from it. However, these days, such applications make it hard for security specialists to pin them down just to one category because of the way they are distributed. After all, normally, when we think about security threats, we imagine them slithering into our systems behind our backs and so. MapsScout, on the other hand, does not do that. You might miss the instance when you add this extension, but it still requires your permission to enter your PC.
So how does it do that? Well, it clearly has more than just one distribution route. The official ones are the most obvious. The extension has an official website, and we can access it via mapsscout.com. Although it is rather questionable whether you would really access this webpage to add the extension to your browser. It would be weird if you were to stumble upon that page accidentally, so we most probably can rule that out.
Next, we can find MapsScout at the Chrome Web Store. And yet, what are the chances that you would add this extension to your browser from the Store? Probably quite slim. And this is where we come to the main distribution method employed by freeware, adware, and browser hijackers: bundled downloads. Bundled downloads refer to software packages that users download from third-party websites when they browse the web. It is very easy to download a program from a file-sharing website. But before you do that, you should consider the possibility that this program could bring along MapsScout or any other similar application.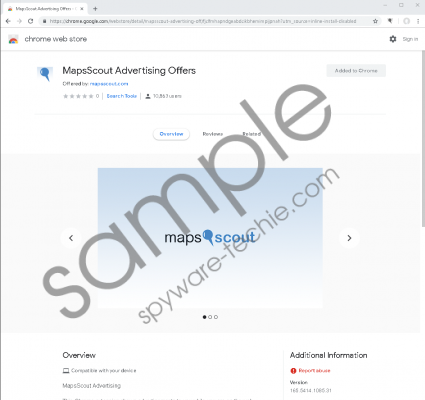 MapsScout screenshot
Scroll down for full removal instructions
In other words, it is possible to avoid the likes of MapsScout entering your system, but you have to be really careful about what you download and what you install on your computer. If you are not sure whether a particular downloaded file is safe, you can always scan it with the SpyHunter free scanner. That would clear your doubts before installing anything. On the other hand, sometimes even opening file-sharing websites could lead to random freeware installations. For example, MapsScout might also come via pop-ups that you encounter every single day. Hence, you should also be careful about the regular websites that you frequent. If a page has a lot of pop-ups, the chances are that there is something fishy about it.
Is MapsScout really dangerous? That would be too far-fetched of a claim. This extension doesn't even change your browser's settings. It leaves your default homepage and search engine as they are. Instead, the thing this application does is showing commercial advertisements while you browse the web. It doesn't seem like much of a deal until you understand that it needs to collect a little bit of data about you before it starts generating custom ads. The extension does inform users that it monitors your browsing data in its Privacy Policy, but let's be honest, how many of us read that?
The problem is that MapsScout isn't an extremely secure application and the data it collects (albeit it is not personally identifiable information) could be shared with or exploited by a malevolent third party. To prevent that from happening, it is strongly recommended that you remove MapsScout right now.
While you are at it, scan your computer with the security tool of your choice because you might have more unwanted applications on-board (such apps seldom travel alone). Just make sure that your PC is safe and sound before you dive into the vast spaces of the Internet again. And if you think that you ever need a lending hand, feel free to drop us a note.
How to Remove MapsScout
Chrome
Press Alt+F and go to More tools.
Click Extensions.
Delete MapsScout from the list.
Firefox
Press Alt+T and click Add-ons.
Open the Extensions tab.
Delete MapsScout from the list.
Internet Explorer
Press Win+R and type Control panel. Click OK.
Open Uninstall a program (Add or remove programs for Windows XP).
Remove MapsScout from the list.
In non-techie terms:
MapsScout is random browser extension that displays commercial advertisements. These ads could slow down your browser, at the same time, exposing you to potentially corrupted content. It is necessary to do everything you can to protect your cyber security, so if you can get rid of the likes of MapsScout, do it today. You should also consider safeguarding your PC against similar intruders in the future by investing in a licensed antispyware tool.