Do you know what Mans-find.org is?
According to our malware research team, Mans-find.org is not as innocent as it might look at first sight. This website displays a search dialog box that redirects your search queries to google.com/search. Besides that, it also displays an endless number of news articles that might provide you with interesting information; that is, if you speak Russian. Although it does not look like it, the suspicious search provider is a browser hijacker whose activity might put your virtual security at risk. For example, the results displayed via the Google search engine might be modified, and the news links might route you to unreliable websites. Besides that, the hijacker might perform in a malicious way silently, which, of course, is a huge risk. Due to these reasons, we strongly recommend deleting Mans-find.org, and if you want to learn more, our findings and removal tips are represented in this guide.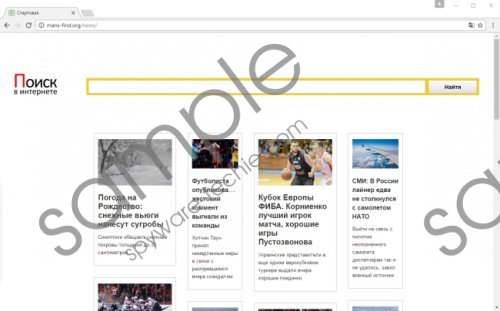 Mans-find.org screenshot
Scroll down for full removal instructions
Although it might appear that Mans-find.org is the one hijacking your browser, it is very possible that you are dealing with a different kind of infection, a redirector. A redirector can automatically redirect you to any page it is set to represent, and, in this case, it could be mans-find.org/news. The same redirector could also reroute you to Workno.ru, Smartinf.ru, Funday24.ru, and other browser hijackers that appear to come from the same group. These hijackers are targeted at those who speak Russian, and our researchers have found them to spread primarily in Russia, Ukraine, and Kazakhstan. Of course, that does not mean that you will not need to worry about the removal of a malicious hijacker if you live in a different country. Cyber criminals are very flexible, and they can adjust their tools and even their distribution techniques swiftly, as long as these practices are successful and, potentially, profitable.
It would be a crime not to mention the distribution of Mans-find.org when discussing this hijacker. Our analysis has revealed that this threat is most likely to be spread by unreliable installers located on Russian file-sharing websites. Unfortunately, the installers distributing the hijacker could also be responsible for spreading other threats, such as Mail.ru, Torrent Search, and Searchgo. If you find these or other suspicious, unfamiliar programs installed on your PC, the only thing you should do is remove them. We also advise scanning your PC to check for malware because, in some cases, it can slither in without any notice. For example, Trojans can slither in without permission, and they can remain silent. Did you know that a malicious Trojan could have downloaded Mans-find.org as well? If that has happened in your situation, a reliable malware scanner will warn that you need to remove it.
If you do not want to be exposed to potentially unreliable search results, you need to remove Mans-find.org ASAP. Of course, there are other reasons to eliminate this hijacker as well. Considering that all legal information regarding this threat is hidden, you have to consider the possibility of malicious tracking cookies being used by this infection as well. In general, Mans-find.org is completely unpredictable, and it is best to get rid of it as soon as you can. The manual removal instructions below reveal how to erase unwanted components, as well as how to reset the corrupted browser. Hopefully, this will be enough to eliminate the infection, but, just to be sure, you should scan your operating system to check for potential leftovers as soon as you are done erasing it. If more aggressive threats, such as Trojans, are found, do not waste your time and install an automated anti-malware tool.
Delete Mans-find.org hijacker
Delete the Вoйти в Интeрнет.lnk shortcut on the Desktop.
Simultaneously tap Win+R keys to launch RUN.
Type regedit.exe and click OK to launch Registry Editor.
Navigate to HKEY_CURRENT_USER\Software\Microsoft\Windows\CurrentVersion\Run.
Delete the value whose value data points to the hijacker or a malicious redirector.
Follow the steps below to reset your browsers.
Reset browsers
Mozilla Firefox
Launch the browser and tap keys Alt+H to access the Help menu.
Select Troubleshooting Information.
Click Refresh Firefox and then click Refresh Firefox again.
Google Chrome
Launch the browser and tap Alt+F keys to access the Chrome menu.
Select Settings and then move to the bottom of the menu.
Click Show advanced settings and click the Reset settings button at the bottom.
Click Reset again and then restart Chrome.
Internet Explorer
Launch the browser and tap keys Alt+T to open the Tools menu.
Select Internet options and then move to the Advanced tab.
Click Reset… and then mark the box indicating Delete personal settings.
Click Reset again and then restart the browser.
In non-techie terms:
If Mans-find.org has corrupted the homepage of your web browser, you should not postpone its removal for another moment. This hijacker is very mysterious, and it is possible that it could be used to spy on its victims and, consequently, put their virtual security at risk. Hopefully, you can avoid that by erasing this infection right away. Whether or not you choose the manual removal option, install a malware scanner to inspect your operating system. It is possible that other infections will be found on your PC, and, of course, they also require your attention. We recommend installing automated malware removal software to have the operating system cleaned completely.