Do you know what Majestic Coupons is?
Many computer users believe that Majestic Coupons can provide a coupon for any product they are interested in. This program should show the so-called promo codes if they are available when you shop online. In theory, this service is very attractive, which is why computer users install this browser extension. In practice, as our research team has found, this program is only capable of showing online offers that are produced or served by parties affiliated with them. Unfortunately, this means that even if this program works, it is unlikely to introduce you to the best online deals. This is one reason to delete Majestic Coupons from your operating system.
Our research team has found that Majestic Coupons is the latest clone of such ad-supported programs as Awesome Shoppers, Ninja Savings, and Price-Horse. Although every single one of these programs has a separate website (e.g., majesticcoupons.com), it was found that they can be spread by the same unreliable installers. The installers on the sites representing these ad-supported programs are inactive, which suggests that they were created only to assure computer users that the unfamiliar adware installed on their operating systems is authentic. In reality, the ads injected by this program could be served by malicious parties, and they could open backdoors to malicious sites. If you are careless, malware could be dropped onto your computer using these backdoors. If you suspect that you need to remove Majestic Coupons-related infections, we advise using a legitimate malware scanner. Even experienced computer users often have trouble identifying which programs require removal, but a legitimate malware scanner will identify them all.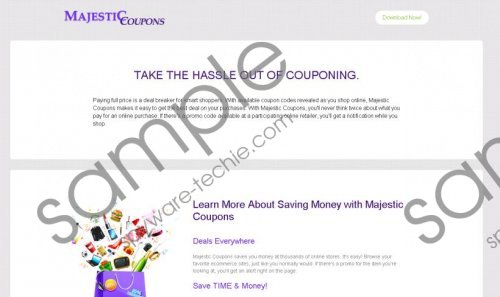 Majestic Coupons screenshot
Scroll down for full removal instructions
The commercial advertisements and random pop-ups associated with Majestic Coupons might show up on Mozilla Firefox and Internet Explorer browsers. Whether or not these ads show up on Google Chrome depends on which version of this browser you use. If you have upgraded to the latest version, the ads will not show up because Majestic Coupons will be blocked. Keep in mind that you might have to delete this add-on from other browsers, even if Chrome is the only browser you prefer using. Our manual removal guide below shows how to delete Majestic Coupons from your browsers. Hopefully, this will be enough to get rid of this threat. Use the scanner you have installed to identify malware to see if you need to delete any other threats. If you cannot delete them manually, install a tool that will delete them automatically.
Delete Majestic Coupons from browsers
Delete from Google Chrome
Launch the browser and tap Alt+F to access the Chrome menu.
Navigate to More tools for more options and click Extensions.
Remove the unwanted add-on.
Delete from Internet Explorer
Launch the browser, tap Alt+T, and click Manage Add-ons.
In the menu on the left click Toolbars and Extensions.
Disable the unwanted add-on and click Close.
Delete from Mozilla Firefox
Launch the browser, tap Alt+T, and select Add-ons.
In the menu on the left click Extensions.
Remove/Disable the undesirable add-on.
In non-techie terms:
Majestic Coupons should provide you with beneficial deals. Unfortunately, it is incapable of doing that, which is why we identify it as an unreliable program. If you do not delete this advertisement-supported program from your operating system, it will inject ads at any opportunity. The parties responsible for delivering these ads might be used to introduce you to malicious content, which means that you might be putting your virtual security at risk by interacting with them. Even if some of the deals introduced by this program are harmless, you cannot take any risks that could put your virtual security in danger.