Do you know what Magic PC Cleaner is?
If you find Magic PC Cleaner on your system, it can mean two things: You did not know that you were installing a potentially unwanted program (PUP) because you had not run a web search on this software or you installed it sort of unknowingly. In any case, when this PUP is on your system, it is also possible that you will find more serious threats, too. We cannot say that this software can harm your computer, your files, or that it could put your virtual security at risk directly. Still, our researchers have found that this PUP might be unreliable and may show you questionable scan results just to make you want to pay for the full version. Therefore, we recommend that you remove Magic PC Cleaner from your computer.
PUPs are probably the kind of programs that most computers have. This is due to the fact that it is very easy to install one even without knowing about it. Let us say you are looking for a new application to download. You may run a web search in Google or any other preferred search engine. However, what you may not know is that even such a reputable search engine can display links to questionable or downright malicious websites. Schemers are a tricky kind and they know exactly how they can operate fake or malicious file-sharing websites to get the most hits from unsuspecting computer users. Since lots of people search the web for free or cracked files every day, there is great demand out there. Cyber criminals simply ride this wave and provide you with your targeted file – although sometimes it is not even a real or working file – but in a bundled version that may contain a number of threats.
So when you download your targeted file from a shady torrent or freeware page, you should be very careful because chances are your packages is filled with browser hijackers, adware programs, Trojans, and, of course, PUPs. But you can also download this PUP directly by clicking on the wrong pop-up ad that happens to promote it. You definitely need to be more careful with what kind of websites you visit and which third-party ads you click on if you want to keep your computer safe and clean. Of course, it is also possible that a malware threat, such as an adware, has already managed to infiltrate your system and this infection presents to you the unreliable third-party ads you click on only to drop a malicious bundle onto your system. Therefore, after you manage to delete Magic PC Cleaner, we highly advise you to find a trustworthy malware scanner to scan your system for further possible threats. You can use a free online scanner if you think it is reliable. Beware of the fake and rogue security tools that may cause additional malware issues.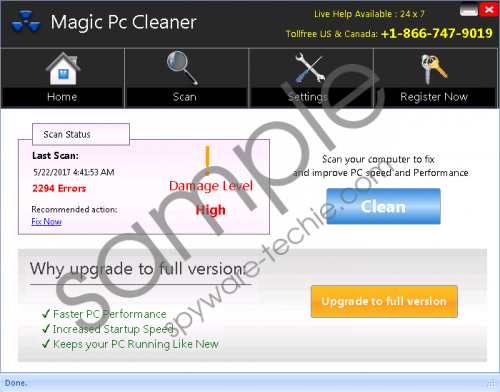 Magic PC Cleaner screenshot
Scroll down for full removal instructions
This alleged PC optimizer is nothing new really to us. We have seen dozens of very similar programs emerging in the past years, including TotalSystemCare and Pc Health Aid. This PUP is no different in the sense that it may show you totally fake scan results trying to prove you that there are hundreds or thousands of system issues that need fixing and cleaning to boost your PC performance. However, you should know that this program can do little to make your PC any faster even if you buy the full version for $29.95, which is, of course, the main goal of the creators. So, in the worst case, you may lose about $30 from your account by purchasing this tool. But why would you keep an application on board that does not do as promised and whose free version does not do anything useful? Our researchers say that this PUP may only remove certain unused and temporary files, registry entries, and empty the browsers' cache. If you were an experienced user, you would know that these changes will not exactly boost your PC in any sense. Yes, there may be less mess around, but you can also do this kind of cleaning manually without wasting your money. Even if this PUP is not a severe threat to your computer, we suggest that you remove it.
Fortunately, it is not rocket science to uninstall such a PUP. You can easily use the uninstaller, which you can find in the installed programs list in Control Panel. However, if you choose to do it manually, you can follow our instructions below. If you want to make sure that similar or worse infections do not take place, you can refrain from clicking on third-party ads, visiting suspicious websites, and you can also update all your programs and drivers to avoid cyber attacks. Nevertheless, if you want professional protection, you should install a malware removal application, such as SpyHunter.
Remove Magic PC Cleaner from Windows
Tap Win+R and enter regedit. Press OK.
Delete the following registry keys:
HKLM\SOFTWARE\Wow6432Node\Magic Pc Cleaner
HKLM\SOFTWARE\Magic Pc Cleaner
HKCU\Software\Magic Pc Cleaner
Close the editor
Tap Win+E.
Find and bin the following folders:
%APPDATA%\Magic Pc Cleaner
%PROGRAMFILES(x86)%\Magic Pc Cleaner
Empty your Recycle Bin and reboot your system.
In non-techie terms:
Magic PC Cleaner seems to be a worthless PC optimizer that tries to make you want to buy it for almost $30. The truth is that our researchers have concluded that this is just another potentially unwanted program that you should not keep on your system because the free version is practically good for nothing. Since this program can show up on your system after you click on suspicious third-party ads or you install another free program, we do not think it is reliable enough for you to use it. In fact, our researchers suggest that you remove Magic PC Cleaner from your computer if virtual security is of importance to you. If you want to make your PC more secure, we advise you to use a professional anti-malware program to do this job for you automatically.