Do you know what LyricsWoofer ads are?
If you have installed LyricsWooder to sing karaoke on Youtube, you are probably aware of LyricsWoofer ads, which are distributed along the web page. The application is compatible with Google Chrome, Mozilla Firefox, and Internet Explorer, so if you have all these websites, all of them are likely to be affected. The alleged description page of LyricsWoofer says that the LyricsWoofer ads are displayed according to the user's preferences and internet usage, but if you pay attention to the content of the ads, you will notice that they are unrelated to your online interests, which is one of the reason why LyricsWoofer ads, or simply LyricsWoofer, should be removed from the system.
Once installed, the application can access your browsing history and some other information stored on the browsers. Advertisements are said to be presented automatically, and no information is collected; however, the fact that LyricsWoofer can access browsing history implies that the data may be used for some particular purposed.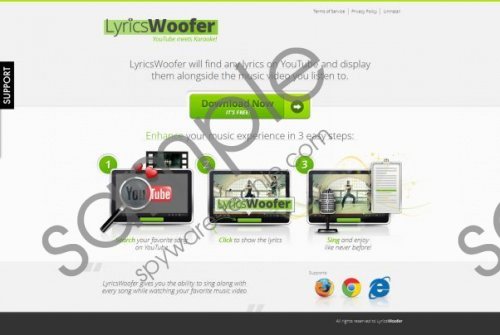 LyricsWoofer ads screenshot
Scroll down for full removal instructions
Third-party products and services that are promoted through LyricsWoofer is the seller's responsibility, so if you click on a LyricsWoofer ad, keep in mind that the website to which you are taken has its own privacy policy or terms of use. LyricsWoofer ads may promote online games, computer applications, and various products. If you do not know the service provider or simply do not trust them, do not expose your personal information. You use LyricsWoofer at your own responsibility, and even though the program itself is not malicious, the use of the application may lead to adverse results.
LyricsWoofer ads are provided in various forms. You will find iframe advertisements labeled as Ads by LyricsWoofer. You may also find in-line or in-text advertisements which appear when you move the cursor over a hyperlinked world.
If you want to get rid of all those obtrusive ads, install SpyHunter which will easily remove the unwanted adware program and safeguard the system. It is not a secret that you can uninstall the program, but how can you be sure that all the components of the application are removed? The recommended software program will fully remove LyricsWoofer so that you can use the computer and browse the Internet safely.
How to uninstall LyricsWoofer
Windows Vista and Windows 7
Open the Start menu and click Control Panel.
Click Uninstall a program.
Uninstall LyricsWoofer.
Windows XP
Open the Start menu and Click Control Panel.
Select Add or Remove Programs.
Remove the adware program.
Windows 8
Move the cursor to the lower-left corner of the screen.
Right-click on the pop-up window.
Select Control Panel.
Click Uninstall a program and remove the adware program.
In non-techie terms:
LyricsWoofer ads are various types of advertisements generated by the adware program. The ads are aimed at increasing the number of clicks and raising revenues of the website owners whose products or services are promoted. Remove LyricsWoofer ads from the browsers if you want to improve the performance of the browsers and surf the Net without being disturbed.
Aliases: Lyrics Woofer.