Do you know what LyricsPlug is?
LyricsPlug is a browser plugin which offers you to find lyrics for the music videos you are viewing. The program works solemnly with YouTube and only on Google Chrome, Mozilla Firefox and Internet Explorer browsers. Windows security specialist categorize the extension as an adware, also known as advertisement supported software, because it is often bundled with adware components. For example, it has been discover that after installing the plugin onto the browsers, computer users may discover pop-up adverts from the ads.panoramtech.net domain. Since the plugin definitely acts in a shady manner, we advise that you delete LyricsPlug as soon as possible. If you choose to run this apparently useless tool you definitely need to ensure that the system is protected with automatic malware detection and removal software.
Do you understand why your PC has to be safeguarded in order to run LyricsPlug risk-free? It appears that the program presents lyrics as well as various pop-up notifications, in-text adverts and online offers (e.g. prize draws). Security researchers indicate that these are the security vulnerabilities which could easily route you to official promotion sources as well as to corrupted sites managed by cyber criminals. As the users of LyricsKid, LyricsPal and other similar applications have discovered clicking on these ads impose certain risks. If no security tools are installed to safeguard you against malware infiltration, there is a possibility that after installing the plugin from lyricsplug.co your virtual security will fall in danger.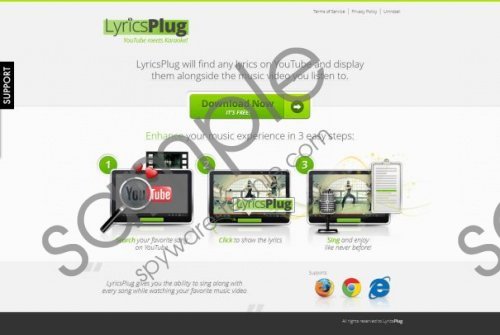 LyricsPlug screenshot
Scroll down for full removal instructions
If you wish to ensure that you are not bombarded by malware after installing LyricsPlug onto your web browsers you need to delete the unreliable plugin first. Then you should examine the system and find out if adware or other malicious programs are not running on the PC. Click the download button below to install an authentic malware scanner which will help you list all undesirable programs. We recommend SpyHunter to have all of them deleted and the system protected in the future. If this is not something you are ready to commit to follow the manual removal instructions below.
Delete LyricsPlug from the PC
Delete from Windows XP:
Open the Start menu and click Control Panel.
Go to Add or Remove Programs.
Select the undesirable program and click the Remove button.
Delete from Windows Vista or Windows 7:
Navigate to the Task Bar, click Start and select Control Panel.
Move to Uninstall a program and locate the undesirable application.
Right-click the program you wish to remove and click Uninstall.
Delete from Windows 8:
Right-click on the Metro UI start menu to open a new pane.
Select All apps, click Control Panel and then Uninstall a program.
Now right-click the undesirable program and click Uninstall to remove it.
In non-techie terms:
As our Windows security researchers recommend you should remove LyricsPlug from the computer and then delete all of the remaining malware if it has entered the system. In case you have already clicked on the pop-ups presented alongside the suspicious karaoke plugin, you need to figure out what kind of information you have shared. Have you entered your email address, telephone number or similar information? If yes – beware of the virtual scams which you may face.
Aliases: Lyrics Plug.