Do you know what Luxembourg Police Virus is?
If you do not know how ransomware infections work, you need to be aware that cyber schemers could employ Luxembourg Police Virus to trick you into giving up your money. What is worst, you may not even realize the monstrous scam, because cyber criminals will use deception and scare tactics to reach success. The virus usually travels with the help of the malicious Reveton Trojan, which means that virus' malignant component can be dropped onto your computer using deceptive security vulnerabilities. These cracks can be exposed if appropriate security implementations have not been taken to protect your Windows system or you have missed important updates. In this case, it is your fault that you need to delete Luxembourg Police Virus. Nonetheless, if you waste no time and study the following information, you will find out how to remove the infection and protect your PC against the malicious Reveton Trojan.
The first thing you need to know is that even though your computer is now locked and you cannot access it, it is unlikely that your personal data would have been removed. Regardless, if you do not hurry up to delete Luxembourg Police Virus, your personal computer could be used for various malicious operations, including login data theft or malware propagation from your personal email accounts. This intrusive activity has been observed whilst researching other Ukash viruses, including the GEMA virus, Police Nationale Virus, Office Central de Lutte contre la Criminalité virus and others. All of these disruptive infections may also lock your computer and present similar alerts to this one:
Votre ordinateur a été bloque!
Le fonctionnement de votre ordinateur est arrêté pour les signes de la cyberacdvité défendue.
Les violations possibles commises sur votre ordinateur: Article 274 - Droit d'auteur Amende […].
La somme de l'amende fait 100 euros. Le paiement doit être produit pendant 48 heures, après la révélation de la v:olabon.
Si l'amende n'est pas payée, une action pénale sera automatiquement ouverte contre votre personne.
If you think that this warning has been sent to you by the Luxembourg Police – you could not be more wrong. In reality, the agency does not have anything to do with the bogus alert or your computer's locking, and, instead of trusting the fictitious proclamations, you need to delete Luxembourg Police Virus. To achieve this, you need to:
Restart your computer and immediately press F8 on your keyboard to access the Advanced Options Menu.
Using keyboard's arrow keys, select Safe Mode with Networking.
Wait for the system to load
Open the browser download SpyHunter, Removal tool from: http://www.spyware-techie.com/download-sph  .
 Remove Luxembourg Police Virus infection.
The instructions for Windows XP users:
Restart the computer using Safe Mode with Networking feature.
Download SpyHunter.
Click on Start (left side of the Task Bar) and launch RUN.
Type "msconfig", click OK and wait for the System Configuration Utility to show up.
Click on the Startup tab and uncheck all Startup Items.
 Apply settings.
Go to Start Menu again, select Turn Off Computer and then click Restart.
Once your Windows load normally
Run SpyHunter installer and remove infection.
In non-techie terms: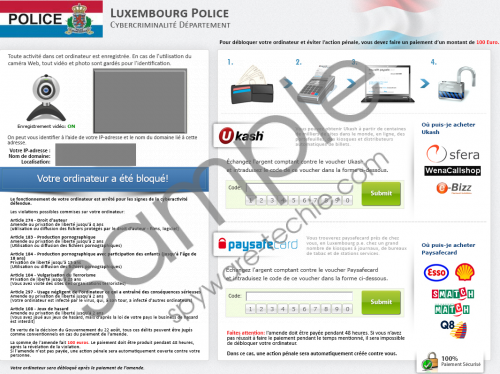 Luxembourg Police Virus screenshot
Scroll down for full removal instructions
Luxembourg Police Virus is a vicious ransomware infection that schemers will use to lure out your money. It is extremely important not to get involved and pay money for something that has been made up in order to trick you into believing that you have been contacted by the national authorities. So, remove the obnoxious infection and employ automatic malware detection and removal tools to protect your digital data against any malevolent intrusions.
Aliases: Luxembourg Ukash Virus.