Do you know what Luckybeginning.com is?
Luckybeginning.com is a browser hijacker that will enter your system uninvited. It will modify your default browser settings by changing your homepage and search engine. This intrusive activity should not be tolerated because it can result in severe malware infections. Please remove Luckybeginning.com from your computer as soon as possible. If you do not know how to deal with this infection, contact us by leaving a comment below this description. Also, please consider investing in a legitimate computer security application if you want to avoid similar infections in the future. And do not forget that Luckybeginning.com might be the least of your concern at the moment.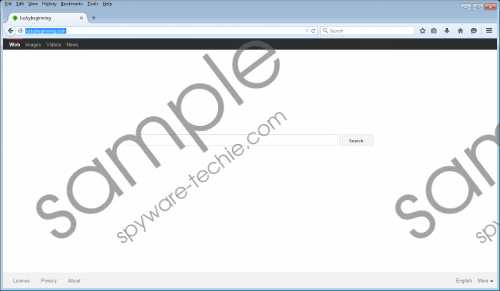 Luckybeginning.com screenshot
Scroll down for full removal instructions
It is quite obvious that Luckybeginning.com is an extremely annoying browser infection. After all, it modifies your settings without your permission. However, the research lab team guys say that it would be possible to avoid installing Luckybeginning.com if users avoided downloading freeware apps from unfamiliar websites. For example, if you download various applications from unfamiliar sources, it is very likely that the third-party installers might contain several programs. Since users usually focus just on the one they want to have, they do not notice how Luckybeginning.com and other unwanted applications get installed along. As a result, you have an entire bunch of potentially harmful programs to remove.
Granted, browser hijackers cannot infect you with malware directly, but that does not mean you should take them lightly. Especially when we are talking about Luckybeginning.com here. You should never underestimate this browser hijacker because it belongs to the Qone8 Virus group. The browser hijacker itself is a direct clone of Luckysearches.com hijacker, and the previously released infections in the family include NationZoom, Sweet-Page, V9, Webssearches, StartSurf, and many other dangerous hijackers.
Luckybeginning.com is just as intrusive as its predecessors because the hijacker changes your homepage, your search engine, and even your Target shortcut without your permission. Luckily, the target shortcut modifications can be reversed by uninstalling Luckybeginning.com via Control Panel. However, that is no excuse to breathe a sigh of relief here.
When it comes to your browser security, with Luckybeginning.com on-board, you can no longer feel safe about browsing the Internet because your online activity is constantly monitored. What's more, Luckybeginning.com makes use of the customized version of the Google search engine. This search engine may provide you with seemingly relevant search results, but please keep in mind that most of the results might also be rigged. They could be embedded with outgoing links that redirect users to unfamiliar websites. Most of the time, Luckybeginning.com simply makes money through the pay-per-click system by redirecting you to affiliated websites. But in some cases it might also expose you to malware distribution sites, and then you will have to delete multiple malicious programs from your PC.
Before any of that happens, you have to remove Luckybeginning.com and everything related to this infection from your system. As mentioned above, if you cannot deal with this problem on your own, you should get yourself a legitimate antispyware tool. Sometimes you may miss some components of the infection when you delete them manually, so a computer security program of your choice is always a good idea. It will help you keep your system clean and protected!
How to Delete Luckybeginning.com
Windows 8 & Windows 8.1
Slide the mouse cursor to the lower right corner of your screen.
When the Charm bar appears, click Settings and go to Control Panel.
Open Uninstall a program and remove Luckybeginning.
Windows Vista & Windows 7
Open the Start menu and click Control Panel.
Go to Uninstall a program and remove Luckybeginning.
Windows XP
Click the Start menu and navigate to Control Panel.
Select Add or remove programs and uninstall Luckybeginning.
How to Restore Your Browser's Settings
Mozilla Firefox
Press Alt+H and go to Troubleshooting information.
When the new tab opens, click Refresh Firefox.
Press Refresh Firefox on the confirmation box.
Click Finish.
Internet Explorer
Press Alt+T and go to Internet options.
Click the Advanced tab and click Reset.
Mark Delete personal settings and press Reset.
Click Close.
Google Chrome
Press Alt+F and click Settings.
Scroll down and select Show advanced settings.
Scroll down once more and click Reset settings.
Press Reset.
In non-techie terms:
When your browser opens a web page you do not understand, it is very likely that you have been infected with Luckybeginning.com. This infection is called a browser hijacker. It means that it spies on you by monitoring what websites you open. You need to remove Luckybeginning.com from your system in order to avoid even more serious computer infections. For an alternative software removal method, you can always check out the additional set of instructions below.