Do you know what Los Pollos Hermanos is?
Los Pollos Hermanos is a dangerous computer infection that encrypts your files and does not allow you to access them anymore. This ransomware program belongs to the same group of malicious infections as Cryptolocker and CryptoWall. Needless to say, you must remove Los Pollos Hermanos from the system as soon as possible because the program is highly obnoxious, intrusive, and dangerous. Manual removal might be a bit of a challenge if you are not an experienced computer user, so it is always a good idea to rely on a professional antimalware tool.
In fact, it is possible to avoid getting infected with Los Pollos Hermanos as well. You just have to be very careful about what websites you visit, and what instant and email messages you open on a regular basis. This ransomware infection employs social engineering techniques for distribution, and it could find its way into your computer through spam messages without you even realizing it. On the other hand, you need to run the infection file in order for Los Pollos Hermanos to enter your PC. The malicious file is called "PENALTY.VBS" and it comes with a zip archive file that users usually download from the spam email attachment.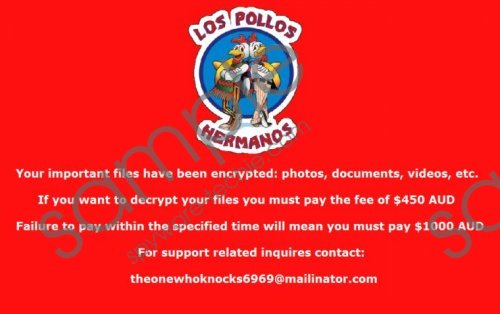 Los Pollos Hermanos screenshot
Scroll down for full removal instructions
Unlike the Ukash ransomware applications that try to make an impression that they are part of some local law enforcement authority, Los Pollos Hermanos is very straightforward. This infection encrypts .crt, .doc, .jpg, .msi, .pps, .rar, .txt, .wma, .zip, and many other extension files. The point is that these are the extensions of the files users use the most often. Hence, Los Pollos Hermanos denies access to your most important files and documents. And that is just one of the reasons you should delete this application from your computer.
To protect your files from this fate, you should consider backing them up on an external hard drive or a virtual storage. Rather than looking for a decryption tool, you should be ready for any kind of unexpected mishaps that would require you to restore your files. Thus, a file backup is always a must!
The unique thing about Los Pollos Hermanos is that this ransomware program targets computer users in Australia. The program displays the following message on your screen once the encryption takes place:
Your important files have been encrypted: photos, documents, videos, etc.

If you want to decrypt your files you must pay the fee of $450 AUD

Failure to pay within the specified time will mean you must pay $1000 AUD
What's more, Los Pollos Hermanos also makes use of the Breaking Bad theme for the infection. For example, you are supposed to contact the people behind this infection through an email that is based on a quote by the show's protagonist: theonewhoknocks6969@mailinator.com.
Although this program might be somewhat different from its predecessors, essentially, it is still there for your money. Therefore, keep your money to yourself and remove Los Pollos Hermanos from your system right now with a licensed computer security tool.
How to Delete Los Pollos Hermanos
Launch your browser.
Enter http://www.spyware-techie.com/download-sph into the address bar.
Hit Enter and click Run on the dialog box.
Install SpyHunter and run a full system scan.
In non-techie terms:
Los Pollos Hermanos is a ransomware programs that wants your money. It denies access to most of your files and expects you to pay a ransom fee. Remove Los Pollos Hermanos from your computer right now and get yourself a legitimate computer security application that will help you terminate any other malicious threats. At the same time, it will safeguard your system from similar intruders in the future.