Do you know what Loot Find is?
Loot Find is a program which promises to "help you locate the web rewards on the web." There is not much information on the official website of Loot Find, so users cannot find out what it really does before they install Loot Find on their systems. If you also do not know anything about Loot Find, you should know that this program is untrustworthy despite the fact that it has a decent-looking web page. In fact, other Injekt-based programs have decent web pages, too, but the truth is that they cannot be trusted at all. If you wonder why this is so, you should know that all these programs are advertising-supported applications (adware), and they only show various commercial advertisements. We do not think that they are going to do anything else. Loot Find is no exception, so we do not think that it is worth keeping Loot Find installed. If you agree with us, continue reading to find out how to get rid of this program easily and quickly.
As Loot Find is an ad-supported program, it is not surprising at all that it is going to generate all kinds of advertisements. According to our researchers, you will see pop-ups, shopping offers, and other kinds of advertisements on your screen. Make sure that you do not click on them because you might be taken to other untrustworthy web pages and thus infect your system with malicious software. This adware program might do other activities behind your back, too, and you might not even know about that. Research has shown that Loot Find might connect to the Internet without your permission. In addition, specialists have observed that this program might collect information about users' online activities. This is primarily done in order to provide users with relevant advertisements and thus lure them into clicking on ads. Loot Find declares that it collects non-personally identifiable details only; however, there is still a possibility that it will find out something about you. Therefore, we suggest that you get rid of this adware as soon as possible.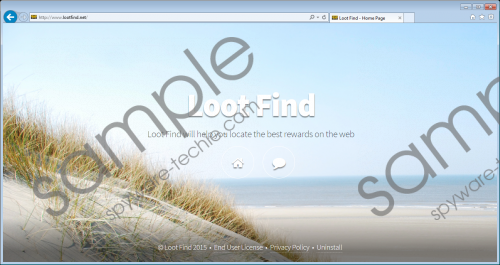 Loot Find screenshot
Scroll down for full removal instructions
You should not forget to get rid of additional programs that might have entered your system together with Loot Find. Of course, you might not know about their presence at all, so you should check your system's condition after you erase this adware. If you detect additional applications on your system, make sure that you get rid of them as soon as possible. If you do not do that, they might start performing various undesirable activities behind your back. You might even notice that your PC works more slowly than usual.
You should not keep any untrustworthy programs installed because they might really cause harm to your computer. Loot Find should also not be kept installed because you will click on its ads sooner or later and thus infect your system with malware. The quickest way to get rid of Loot Find is to scan the system with SpyHunter or another security tool; however, we do not say that you cannot erase Loot Find manually, too. Our instructions (see below) will help you delete Loot Find, but it is very likely that they will not help you eliminate other existing programs from your PC.
How to get rid of Loot Find
Windows XP
Click the Start button.
Select Control Panel and click Add or Remove Programs.
Select the program and click Remove.
Windows 7 and Vista
Open the Start menu and click Control Panel.
Click Uninstall a program.
Find the software that you wish to remove on the list and select it.
Click Uninstall.
Windows 8/Windows 8.1/Windows 10
Launch RUN (Windows key and R).
Enter Control Panel into the box and click OK.
Click Uninstall a program.
Select the suspicious application.
Click Uninstall.
In non-techie terms:
You should be more cautious in the future if you do not want to encounter programs similar to Loot Find ever again. According to our security specialists, you have to install a security tool on the system and try to install programs more cautiously in the future. You should especially pay attention to the installation of free programs because various threats enter systems together with freeware.