Do you know what Lookupopinion.com is?
Lookupopinion.com is a search engine which you should remove from your Internet Explorer, Google Chrome, and Mozilla Firefox browsers immediately if you ever notice that it has been set as your homepage and search engine. Our team of experienced specialists suggests getting rid of it because they have noticed that it does not work properly. Speaking more specifically, it does not show search results after entering a search query. You will only be asked to "try more general/popular keywords", "try different keywords", and "make sure you spell all words correctly." In our opinion, there is no point in keeping a search tool that does not work, especially when there is a risk that it will expose to potential threats. Therefore, specialists suggest getting rid of Lookupopinion.com right now and then setting a more trustworthy and useful search tool instead. You will find the step-by-step instructions below this article but you should go for the Lookupopinion.com removal only after you read this entire report and find out why you need to delete this questionable search tool.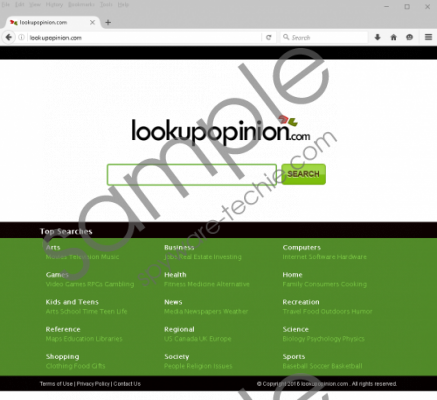 Lookupopinion.com screenshot
Scroll down for full removal instructions
As you already know, Lookupopinion.com does not work as it should, so it will not show any search result for you. Yes, Lookupopinion.com is a useless tool, but it is not the only reason you should eliminate it. According to our specialists, it would be best to remove this search engine also because it tracks users and collects information about them, e.g. name and email address, their interests, and even the technical information about their systems. If you open the Privacy Policy of Lookupopinion.com and read it carefully, you will immediately notice that it does not try to hide the fact that it gathers information about users. It is said that it collects non-personally identifiable information that consists of "Internet Protocol (IP) addresses, browser type, referring/exit pages, the date & time, and search queries." In addition, it is stated that Lookupopinion.com also collects "information regarding user activities on the site." It is said that there are several purposes why it acts like this:
To analyze the web traffic
Improve the performance of the search service
Improve geo-targeted advertising services
Administer the website
Prevent fraud
There is a small possibility that all the collected information will be shared with third parties, so, in the opinion of our security experts, it would be smartest to erase Lookupopinion.com and then set another trustworthy tool for searching the information on the web. Make sure you do not set any of the following websites because they are hosted on the same server as Lookupopinion.com and might be untrustworthy too: detailexplore.com, discoveranswer.com, lookupopinion.com, opinionfind.com, searchbent.com, bestqualitysearch.com, currentexplore.com, discoverreceipt.com, searchbehaviour.com, and searchbent.com.
Lookupopinion.com and other questionable search tools usually change the settings of browsers without permission; however, users can agree with those changes themselves accidentally. If you do not want this to happen to you, you have to be careful with free software from third-party websites because it has been noticed that untrustworthy search tools might come together with a browser hijacker which might enter the system in a bundle with free software from such pages. If you wish to ensure the maximum protection of your computer, you also need to acquire a reputable security tool. Keep it active 24/7 if you wish to leave no chance for malware to sneak onto your computer.
Fortunately, Lookupopinion.com is just an annoying search tool, so it will not be hard to erase it from the system. All you need to do is to reset your browsers to their default settings one by one. Use our manual removal guide provided below. If you wish to get rid of this threat quicker, scan your system with an automatic scanner. Be careful if you decide to use an unknown scanner because there are hundreds of tools that only pretend to be trustworthy.
Remove Lookupopinion.com from browsers
Mozilla Firefox
Launch your browser.
Open the Help menu (Alt+H).
Select Troubleshooting information.
Find the Refresh Firefox button in the upper part of the window.
Click on it.
Google Chrome
Open your browser.
Tap Alt+F.
Select Settings and scroll down.
Click Show advanced settings.
Click Reset settings.
Click Reset.
Internet Explorer
Open your browser.
Open the Tools menu and select Internet Options.
Click on the Advanced tab.
Click Reset.
Put a tick in the box next to Delete personal settings.
Click Reset.
In non-techie terms:
You might not know anything about other undesirable programs or malicious components hiding on your system. Of course, they will all be removed if you delete Lookupopinion.com automatically; however, if you decide to erase it in a manual way, you should scan your computer with a diagnostic SpyHunter scanner after its removal. It will find all other threats (if there are any, of course) within seconds. Upgrade it if you wish this tool to remove unreliable software for you.