Do you know what Look Smart Secure Search is?
Look Smart Secure Search tool (http://looksmart.me) will be set as your default search provider on Google Chrome if you install the Look Smart Secure Search extension from https://https://chrome.google.com/webstore/detail/look-smart-secure-search/fphdjejmofdkcjobakmkhbpopdlfbjgg, or it somehow gets onto your computer without your knowledge. We are sure there are people who install this extension consciously because it promises to enable users to "easily search the web in a safe and secure manner." If we blindly believe the extension's description at the Chrome Web Store, it will use HTTPs and Blockchain technology to make users' web searches secure. It does look really beneficial software at first glance, but our specialists are 100% sure that it is not what it seems to be. Research conducted by them has shown that this piece of software is a typical potentially unwanted application because it has several drawbacks. Because of this, it is not surprising that there are so many people who find this browser extension undesirable and make a decision to get rid of it as soon as possible. Are you one of them? If so, continue reading this report because we will not only present Look Smart Secure Search to you, but you will also find out how to delete it.
Once Look Smart Secure Search affects users' web browsers, it changes the default search tool right away. As mentioned at the beginning, it sets http://looksmart.me as a default search provider and allows users to perform web searches by simply typing search queries in the browser's URL bar. Unfortunately, we cannot confirm that the search tool set is fully reliable. It has been observed by our team of experienced malware analysts that some search results displayed by it are modified, which suggests that searches performed using this search tool are not so safe. These modified search results are not malicious, but, in the worst-case scenario, they might redirect users to untrustworthy websites. This is the reason we cannot call the search tool set 100% trustworthy. It is not the only reason you should get rid of the Look Smart Secure Search browser extension. Researchers have observed that this piece of software might use a malicious script to mine cryptocurrency, e.g. Monero and Bitcoin. If it really starts doing that, your computer might become quite sluggish. Unfortunately, you will need to disable custom Proxy settings set by Look Smart Secure Search yourself after you erase this browser extension too. Yes, it changes Proxy settings upon the installation, which is another reason it has been classified as a potentially unwanted application.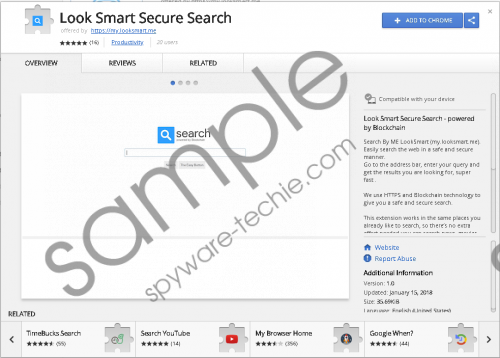 Look Smart Secure Search screenshot
Scroll down for full removal instructions
There is no doubt that not all users know about the installation of the Look Smart Secure Search browser extension. Some of them find this piece of software installed on their computers one day and cannot even explain why they have it active. Our researchers carried out an analysis to find more about its distribution. Research has clearly shown that this potentially unwanted program might also travel bundled. Such suspicious applications travel in software bundles together with various free programs and thus successfully enter users' computers unnoticed. On top of that, specialists say that users might install Look Smart Secure Search by clicking on pop-ups promoting it. They can be found on P2P and other dubious websites. At the time of research, Look Smart Secure Search was actively spreading in India, Libya, Egypt, Indonesia, and Cambodia, but there is no doubt that users might detect it on their computers no matter where they live. Therefore, our security specialists recommend having security software enabled for all users. As long as you have it enabled on your computer, new malware could not find a way to enter the system.
You will delete Look Smart Secure Search quite easily and thus remove the undesirable search tool from your default search provider via the add-ons manager (check the removal guide below); however, you will need to disable custom Proxy settings set by this browser extension separately. Below-provided instructions will help you to do that, but if you want to get a quicker result, use an antimalware scanner to delete the undesirable browser extension from the system instead.
Delete Look Smart Secure Search
Google Chrome
Open Google Chrome.
Tap Alt+F.
Select More tools and open Extensions.
Select Look Smart Secure Search.
Click the Trash button to remove it.
Disable Proxy settings
Internet Explorer
Start Internet Explorer and tap Alt+T.
Click Internet Options.
Open Connections.
Click the LAN settings button.
Disable Use a proxy server for your LAN.
Click OK.
Mozilla Firefox
Open Mozilla Firefox.
Tap Alt+T and click Options.
Find Network Proxy at the bottom.
Click Settings.
Check No proxy and click OK.
Google Chrome
Launch Google Chrome.
Tap Alt+F and open Settings.
Click Advanced at the bottom.
Locate System.
Click Open proxy settings.
Select LAN settings.
Disable Use a proxy server for your LAN.
Click OK.
In non-techie terms:
Look Smart Secure Search claims that it will enable users to search the web safely, but it does not seem that it cares about the users' safety at all because the search tool it sets on users' Google Chrome browsers might provide them with the modified search results, research has shown. On top of that, this extension changes Proxy settings and, on top of that, might even use malicious scripts to mine digital currencies on affected computers. This does not sound like trustworthy software, so we highly recommend that you remove it ASAP.