Do you know what Look Forword is?
If you have recently been plagued by annoying ads, chances are that you have Look Forword installed on your computer and, thus, it's time to remove it. We can assure you, that you will not miss this application, because it is of no use to you anyway. The adware is promoted as a very fun application that provides lyrics for music videos that have been published on YouTube. Their marketing slogan is "YouTube meets Karaoke!"
We must inform you that this application did not work, does not work, and will not work, under any circumstances. It is hardly surprising since the application has been developed to show commercial advertisements to the users. Users should be alarmed by the fact that these ads are not checked for infections, probably because Look Forword has been developed for one purpose and one purpose only, that is to make money for their developers. Since these developers are only interested in making money, they are willing to associate themselves with all kinds of hardly legitimate vendors.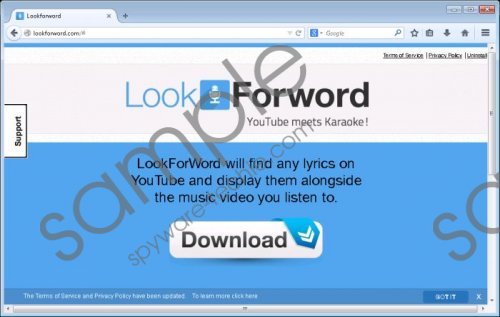 Look Forword screenshot
Scroll down for full removal instructions
To delete this application means to save yourself a lot of time and money, because the promoted ads could redirect you to an infected website, which would in turn infect your system with various Trojans, rogue antimalware applications and so on. In addition, Look Forword is known to collect information about the infected user. This information may include IP address that might giveaway your location, browsing history, search history, browser cookies, and so on. This information is mostly used to analyze the user's browsing habits and then provide custom advertisements to a specific user.
The content sponsored by Look Forword is most likely to come in the form of coupons, pop-ups, banners, random text that has been turned into hyperlinks, and so on. Note that most ads will appear if you visit shopping websites such as Amazon.com or Bestbuy.com. When viewing a shopping website, the user may be displayed various price comparisons and all kinds of "great deals." We warn users not to dive headfirst into unknown waters, because these ads might be misleading and contain no special offers at all.
In any case, Look Forword is malicious in nature and you ought to remove it. It does not perform the functions it claims to perform, and the more so, it subjects the user to numerous annoying ads that could infect his computer with dangerous malware. To remove Look Forword, please consult our manual removal guide provided below.
How to remove Look Forword
Windows 8 and 8.1
Open the Start Screen.
Type Uninstall in the search box and then go to Settings.
In the search results, click Uninstall a program.
Find Look Forword.
Click Uninstall.
Windows 7 and Vista
Click Start.
Select Control Panel.
Click Uninstall a program.
Find Look Forword.
Click Uninstall.
Windows XP
Open the Start menu.
Click Control Panel.
Select Add or Remove Programs.
Find Look Forword.
Click Uninstall.
Remove Look Forword from your web browser
Internet Explorer
Press Alt+X.
Click Manage Add-ons.
Click Toolbars and Extensions.
Remove Look Forword.
Click Close.
Google Chrome
Press Alt+F.
Click More tools.
Click Extensions.
Find Look Forword.
Click Remove.
Mozilla Firefox
Press Ctrl+Shift+A.
Click Extensions.
Remove Look Forword.
In non-techie terms:
Look Forword is an undesirable adware application that poses as a useful tool that provides lyrics for YouTube music videos. Our researchers have concluded that the application does not work. More so, Look Forword displays numerous intrusive ads that could be described as dangerous, because the developers fail to endorse the content that they promote. This negligence on the part of the developers may result in your system getting infected with malware, which can inflict serious damage to your computer. To prevent Look Forword from jeopardizing system security, we urge you to remove it immediately!