Do you know what Locked By a.k Hacker Ransomware is?
Locked By a.k Hacker Ransomware is a malicious threat that blocks your screen while showing a full-screen window with a warning claiming you have to pay a ransom if you wish to access the computer. After seeing such warning, it is best not to panic or make any rash decisions the victim could later regret like paying the ransom. According to our specialists, there is no need to make any payments as you can simply get rid of Locked By a.k Hacker Ransomware and you can go back to using your system same like before. We will explain how to accomplish this further in the article and to make it even less complicated for you; we will add a removal guide showing how to eliminate the threat step by step at the end of this report.
The malware's name comes from the ransom note since the full-size window Locked By a.k Hacker Ransomware displays has no title at all. The message starts with "Locked by a.k Hacker." Then the malicious application's creators ask to give them 1 BTC. The amount may not look huge if you have no idea how much is one Bitcoin. Currently, it is a bit more than two thousand and six hundred US dollars. This is why we doubt there will be users willing to pay such sum, especially when there are ways to unlock the screen without spending any money.
Furthermore, during our tests, we noticed that the application does not create any data on the system. It means the full-size window containing the described warning should appear right after the user's opens Locked By a.k Hacker Ransomware's launcher. It could be a suspicious executable file and as long as it is running the screen should remain to be blocked. At this point, you may wonder how such a file could appear on your computer, and so we would like to discuss this malicious application's distribution.
Our computer security specialists believe it could settle on the system after clicking unreliable pop-up ads, downloading installers from questionable P2P networks, file-sharing web pages, and so on. It should be enough to launch the malicious downloaded file and if the device is not protected by an antimalware tool that could recognize such threat the computer should get infected right away. For this reason, we strongly advise you to think about how you could strengthen the system if you do not want to come across threats similar to Locked By a.k Hacker Ransomware or even more dangerous software the next time.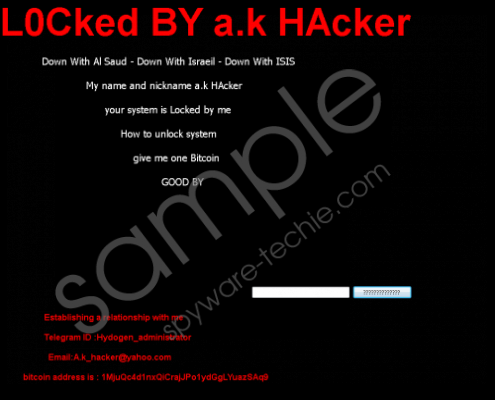 Locked By a.k Hacker Ransomware screenshot
Scroll down for full removal instructions
For starters, you should unlock the screen and clean the system from this ransomware. Locked By a.k Hacker Ransomware can connect to the Internet without any permission so leaving it unattended could be risky. Users who would like to try to complete these tasks manually could follow the removal guide located below. If you have a look at it, you will learn how to restart the device in Safe Mode with Networking and then erase the infection's launcher. As for users who prefer using automatic features, it would be advisable to acquire a reputable antimalware tool that could not only help you erase this malware, but also guard the system against future threats.
Reboot in Safe Mode with Networking
Windows 8/Windows 10
Press Windows Key+I (Win8) or open Start menu (Win10) and click the Power button.
Press and hold the Shift key and tap Restart.
Open Troubleshoot and select Advanced Options.
Pick Startup Settings and click Restart.
Press the F5 key and reboot the device.
Windows XP/Windows Vista/Windows 7
Go to Start then select the Shutdown options and click Restart.
Click and hold the F8 key as soon as the device starts restarting.
Select Safe Mode with Networking and press Enter.
Log on to the computer.
Get rid of Locked By a.k Hacker Ransomware
Press Windows Key+E.
Navigate to the directory where the malware's launcher might have been saved, e.g. Downloads, Temporary Files, Desktop, etc.
Identify this malicious file, right-click it and press Delete.
Leave Explorer and empty Recycle bin.
Restart the system normally.
In non-techie terms:
Locked By a.k Hacker Ransomware can cause you some trouble but it is not a particularly dangerous malware because it does not do any damage to user's personal data or files belonging to the device's operating system. The malicious application's task is only to block user's screen. As a result, you might be unable to perform any usual activities you would do with the unlocked screen. However, our specialists noticed that even if the system is infected with this threat, the user is still able to reboot the device in Safe Mode or Safe Mode with Networking. The latter option would allow you to either remove the infection manually or employ a reputable antimalware tool and enable it to deal with the malware for you.