Do you know what LocalCrimeWatcher is?
LocalCrimeWatcher is one bad toolbar that you really have no use for, and you should not allow it to reside on your computer any longer. We at Spyware-techie.com suggest that you should remove LocalCrimeWatcher, because it offers no real added value to your browsing experience. On the contrary, it will undoubtedly obstruct your browsing experience by hijacking your homepage and search engine. However, that is not the worst part of being infected with LocalCrimeWatcher. The real problem arises from its search engine that is imposed on your browser. It may provide sponsored links to various third-party websites that could cause all kinds of trouble. In order to prevent this adware from jeopardizing your system, you should remove it by following our removal guide provided at the end of this article.
LocalCrimeWatcher has been developed by a company by the name of Mindspark. This company is rather well-known for producing unreliable and often useless browser extensions, mobile apps, system utility tools, and so on. You might accidentally download this infection form Localcrimewatcher.com by clicking the rather large download button in the middle of the screen. Note that this infection is compatible with the latest versions of Google Chrome, Internet Explorer and Mozilla Firefox. Of course we do not recommend installing the malicious program under any pretext. We encourage you to do quite the opposite; we recommend that you remove it, provided that you have been infected. In addition to that, you might get infected with LocalCrimeWatcher by installing freeware bundled that can be obtained at any major freeware distribution site.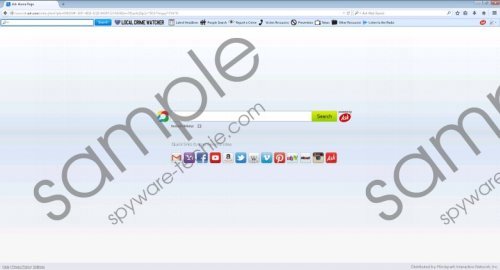 LocalCrimeWatcher screenshot
Scroll down for full removal instructions
LocalCrimeWatcher is a toolbar that contains links and shortcuts to various websites about crime prevention and government websites featuring statistical information, and so on. For example, the toolbar features links to websites such as Crimereports.com or Fbi.gov that could easily be bookmarked and customized according to your preferences and browser. This fact makes its usefulness doubtful to say the least. At any rate, probably worst of all is the fact that its search engine, which is a modified version of Ask.com features altered search results that may sponsor unreliable websites. It is possible that those websites may be infected or may redirect you to infected websites and corrupts your computer with Trojans, and so on.
Therefore, we suggest that you remove LocalCrimeWatcher, because there is no way of knowing which sponsored links are legitimate and which are not. At any rate, it is clear that the app does not have any functions that would complement the dangers its sponsored websites pose. If you wish to removeit right away, please follow our removal guide bellow.
How to remove LocalCrimeWatcher
Windows 8 and 8.1
Open the StartScreen.
Type Uninstall in the search box and then go to Settings.
In the search results, go to Uninstall a program.
Locate LocalCrimeWatcher and click Uninstall.
Windows 7 and Vista
Click Start.
Select ControlPanel.
Click Uninstall a program.
Locate LocalCrimeWatcher and click Uninstall.
WindowsXP
Open the Start menu.
Click Control Panel.
Select Add or Remove Programs.
Locate LocalCrimeWatcher and click Uninstall.
Remove LocalCrimeWatcher from your web browser
Internet Explorer
Press Alt+T and click Internet Options.
Open the Advanced tab and click Reset.
Select the Check box.
Click Reset and click Close.
Done.
Mozilla Firefox
Press Alt+H and click Troubleshooting Information.
Click Reset Firefox.
In the dialog box, click Reset Firefox and click Finish.
Done.
Google Chrome
Press Alt+F and click Settings.
Click Show advanced settings.
Click Reset settings and click Reset.
Done.
In non-techie terms:
LocalCrimeWatcher is a useless toolbar that does not offer anything useful as it merely hijacks your homepage and search engine. It features an Ask.com search engine that has been tampered with, so you definitely shouldn't use it. Its search results contain sponsored links to third-party websites, which makes this application and its search engine unreliable, because it might infect your computer with malicious applications. Therefore, you should remove LocalCrimeWatcher as soon as you can.