Do you know what LoadLeader is?
LoadLeader is a potentially unwanted program. This category means that the application is not a malicious infection, but it exhibits specific features that can be considered undesirable or potentially harmful. If you found this application in your computer, it is very likely that it entered your system accidentally, and it would be for the best to remove LoadLeader before this application leads to other computer security problems. In this description, we will describe the main features of the program in question, and why it is important that you be careful when you utilize it. Once again, your best choice in this situation would be deleting the app for good.
According to our research, LoadLeader is published by LLC Audit Firm ACTIVE – AUDIT. The software developer is based in Kiev, Ukraine, and the company is known as a potentially unwanted software distributor. When a publisher already has that kind of reputation, any program comes from the same source automatically becomes suspicious. Not to mention that the program itself is detected by most of the scan engines that specialize in spyware detection. Some of the scanners even identify LoadLeader as Trojan and adware, so it is clear that the application is not completely "clean."
Multiple websites are involved in the LoadLeader's distribution. Naturally, there is the official website that you can access via loadleader.net. The website greets you in Russian, and it says that the program is the most convenient app for file download. It then mentions that LoadLeader is compatible only with the Windows operating systems. Three features of the program are emphasized the most, namely, versatility, speed, and convenience. Supposedly, these are the things that should convince users to download and install the application. However, there is a lot more to it than that.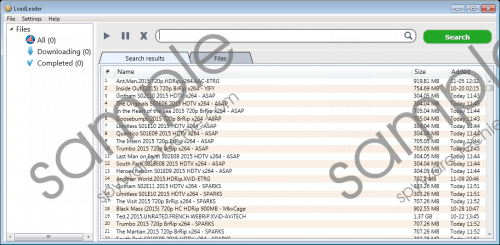 LoadLeader screenshot
Scroll down for full removal instructions
We know there are at least two websites that host and distribute files published by LLC Audit Firm ACTIVE - AUDIT. These sites are mixcenter.pp.ua and musicov.net. If you have downloaded anything from these websites, it is very likely that LoadLeader could have come bundled with the programs you got from these pages. What's more, it is obvious that there are more third-party sources that are involved in the promotion and distribution of this application. It means that you need to be careful when you download freeware from unfamiliar websites because with third-party installers you could be downloading multiple unwanted applications.
Our researchers say that LoadLeader can come bundled with other unwanted software, game applications, cracked software, music files, films, and other media, especially if you download them from Russian websites game-over1.net and psp-psv.ru. It is known that LoadLeader employs a downloader called "InstallMonster," and this installer might be bundled with various other Russian applications like Yandex. Thus, you can never know when or how a potentially unwanted program may enter your computer.
Not to mention that there are cases when LoadLeader can arrive at your computer under a different name. For example, we know that sometimes the same program can be called "MaxDownload." The principle between both versions of the programs is the same. They are promoted as download managers that can help you locate and download any type of file you want. Unfortunately, the reality is that cannot work as a torrent downloader, even if it does come with an executable that looks like a torrent file.
So, perhaps, we can sum up on what we have got so far. This program does not function properly, it can slither into the target system unexpectedly, and its developer is known for producing potentially unwanted applications. If that is not enough to convince you that you need to get rid of this application, perhaps we should also point out that when you try to install LoadLeader from its official website, Firefox and Chrome block the download prompt is blocked on security grounds. Each browser blocks the download saying that the file you are about to download could be malicious.
Finally, even if the application were to help you download something, there is a good chance that the files promoted by LoadLeader could belong to malicious programs. Such potentially unwanted applications are often exploited by cyber criminals for malware distribution, and that is just one of the many reasons computer security experts recommend deleting this program.
Open your Control Panel and uninstall LoadLeader manually. We will also provide you with guidelines on how to delete the folders and registry entries associated with this program on your own. When you are done with that, acquire a legitimate antispyware application that will safeguard your system against other potential threats.
How to Remove LoadLeader
Windows 10 & Windows 8.1
Right-click the Start logo and select Control Panel.
Open Uninstall a program and remove the unwanted application.
Windows Vista & Windows 7
Open the Start menu and navigate to Control Panel.
Go to Uninstall a program and remove the unwanted program.
Windows XP
Click the Start button and open Control Panel.
Select Add or remove programs and uninstall the unwanted application.
Delete Files and Folders
Press Win+R and enter %AppData% into the Open box.
Click OK and locate LoadLeader folder in the Roaming directory.
Delete the folder.
Delete Registry Keys
Press Win+R and type regedit into the Open box.
Press OK and go to HKEY_LOCAL_MACHINE.
Open SOFTWARE and go to Microsoft.
Select Tracing and delete loadleader_RASMANCS from the right pane.
Go back to SOFTWARE and open Wow6432Node.
Select Microsoft and go to Tracing.
Right-click and delete loadleader_RASAPI32 and loadleader_RASMANCS from the right pane.
Go back up to Software and once again open Microsoft.
Go to Windows and open CurrentVersion.
Select Run and delete LoadLeader from the right pane list.
Open HKEY_LOCAL_MACHINE\Software again.
Locate the LoadLeader key and delete it.
In non-techie terms:
LoadLeader looks like a download manager application that should help you get the music or video files you want without any difficulty. Unfortunately, this program is not as safe as you would want it to be. Computer security experts recommend that you remove this application from your system at once. In order to locate other potential threats, scan your PC with the SpyHunter free scanner, and terminate them all at once. Your computer's security should be your utmost priority.