Do you know what Linksicle ads is?
Linksicle ads is an adware program that promotes itself as a browser plugin, able to improve your overall web browsing experience. Some computer security websites categorize this application as a malicious infection, but the truth is that users often install Linksicle ads on their computers themselves, without actually realizing it. Since Linksicle ads informs about the oncoming installation it cannot be considered a computer infection, and yet it is for the best to remove Linksicle ads from your computer, because the application is related to a number of potentially dangerous programs.
It should be possible to download Linksicle ads from its official website from linksicle.com, but in reality the application is mostly downloaded along with freeware application that you encounter on third party websites. You may not even notice when you install Linksicle ads on your computer, especially as users tend to skip important installation steps, thinking that the setup is basically automated.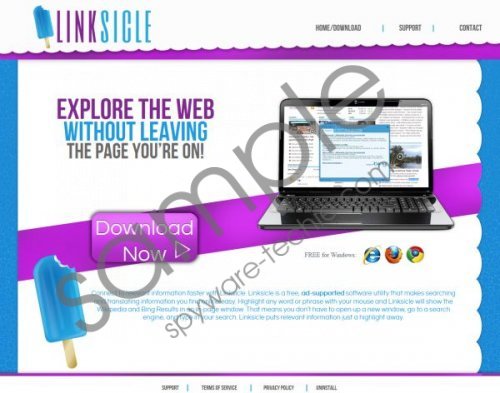 Linksicle ads screenshot
Scroll down for full removal instructions
Once Linksicle ads gets installed, you probably will not notice much of a difference. First of all, the program may display in-text advertisements, especially if you hover your mouse cursor above a particular keyword in text. Then Linksicle ads displays a pop-up message that provides you with even more information on that particular keyword. However, in such a case the information provided is usually of commercial nature. That is so, because, after all, the application is an adware program that makes money when you click on links to affiliated websites.
What is more, Linksicle ads also comes with a translation function. The application translates any text you highlight immediately. Nevertheless, despite all the benefits, one cannot ignore the downside of having this application on one's computer. First and foremost, Linksicle ads spams you with commercial advertisements that interfere with your browsing process. It may also slow down your Internet browser (Google Chrome, Mozilla Firefox or Internet Explorer). But that is not all – this application may also get exploited by malicious third parties to display their content.
In case a malicious party makes use of Linksicle ads advertising network you might get exposed to corrupted links that lead to websites that are part of malware distribution networks. In the end, Linksicle ads because responsible (albeit inadvertently) for infecting your computer with malware. Before any of that happens you should scan your PC with SpyHunter free scanner to detect all the potentially unwanted programs and remove them along with Linksicle ads automatically. Invest in a powerful antimalware program if you need to terminate dangerous infections.
How to remove Linksicle ads
Windows 8
Move mouse cursor to the bottom right of the screen.
When Charms bar appears click Settings and go to Control Panel.
Select Uninstall a program and remove Linksicle.
Windows Vista & Windows 7
Open Start menu and select Control panel.
Go to Uninstall a program and remove Linksicle.
Windows XP
Click the Start menu button and go to Control Panel.
Select Add or remove programs and uninstall Linksicle.
After manual removal, run a full system scan once more, to make sure that you have removed all the potentially unwanted applications from your computer.
In non-techie terms:
Linksicle ads is a program that displays a lot of commercial pop-up ads. It may also expose your PC to dangerous viruses and other infections, so you are strongly advised to remove Linksicle ads.
Aliases: Linksicleads.