Do you know what LightsOff is?
Numerous adware programs are known to be roaming the web, one of them is known as LightsOff. If you have come across ads or pop-ups powered by LightsOff, it is a strong indication that this adware program is up and running on your operating system. Even though LightsOff is advertised as an excellent tool that should improve the online video watching experience, you should know that it is a hoax marketing trick used to lure unsuspecting users into downloading and installing this utterly worthless adware program. Malware experts at Spyware-Techie.com have crafted a detailed removal guide, which will help you delete this intrusive adware application once and for all.
Just like the majority of adware programs of today LightsOff will flood your browser with third-party ads and annoying pop-ups almost instantly after it gains access to your operating system. It goes without saying that this activity is extremely annoying and frustrating as surfing the web will be a task that could turn out to be too much to handle. LightsOff is an adware program that must be removed as soon as possible if you want to restore the standard functionality of your web browser.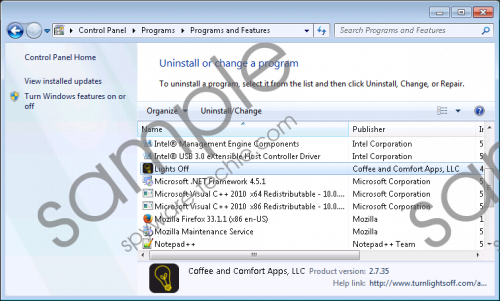 LightsOff screenshot
Scroll down for full removal instructions
Even though, adware programs are infamous for causing endless annoyance and frustration, during the research it has been discovered that in some instances LightsOff could turn out to be quite malicious as well. Malware experts at Spyware-Techie.com have found out that some ads presented by LightsOff could be implemented with redirect links. This is very alarming as you could be redirected to suspicious third-party websites just by clicking on a simple advert. In some instances you could end up on a website with an active arbitrary code execution exploit, meaning that just landing on such a website is more than enough to get your PC infected with some unknown Internet-based infection. Do not hesitate to remove this intrusive and potentially malicious program as it is your best bet to keep your PC safe, secure, and fully functioning.
The removal guide provided below should be carried out with your utmost attention as just one mistake could mean that LightsOff was not removed entirely. This is crucial as other Internet-based infections could use registry entries and files as a backdoor to your PC. If you want to be sure that LightsOff has been removed entirely make sure to scan your PC with a reliable antimalware tool once you have executed the manual removal.
How to remove LightsOff from your operating system
Delete LightsOff from Windows Vista and Windows 7
Click the Windows button.

Select Control Panel.
Click Uninstall a program.
Select LightsOff and click the Uninstall button.
Delete LightsOff from Windows XP
Click Start and select Control Panel.
Click Add or Remove Programs.
Right-click LightsOff and click Remove.

Delete LightsOff from Windows 8
Move the mouse pointer to the lower-left corner of the screen.
Right-click and then select Control Panel.
Click Uninstall a program.
Double-click LightsOff to remove this adware.
In non-techie terms:
In some cases users might not be comfortable performing the manual removal by themselves. If you are one of those users, please follow the instructions provided below as they will help you delete LightsOff in an automatic way.