Do you know what LightningDownloader is?
LightningDownloader is advertised as a download manager application; however, due to its suspicious functionalities and distribution method it has been classified as a potentially unwanted program (PUP). This program has the potential to expose you to certain security threats if you keep it on your system. It might display potentially unreliable customized third-party ads and links after gathering some data about your online activities. Having this app on your computer might also mean that there can be additional programs, which may cause harm to your system. If your virtual security is important for you, you need to reduce the potential threats. That is why we recommend removing LightningDownloader from your PC.
This potentially unwanted program is most likely to be distributed with other programs in free software packages, although it is also available for download on its official website, lightningdownloader.info. There is always a risk involved if you download the bundled versions from untrustworthy websites. Usually file-sharing websites tend to promote third-party installers that might contain PUPs, adware, and even more serious malware infections. Unfortunately, users are often negligent and do not pay close attention to the installation wizard steps or they fail to read the agreement. A bit of patience and caution could save you from letting possibly unwanted or even dangerous programs onto your computer. Either you installed LightningDownloader knowingly or unknowingly, it is possible that infections have sneaked onto your system along with it. Therefore, it would be advisable to delete LightningDownloader and the related programs as well.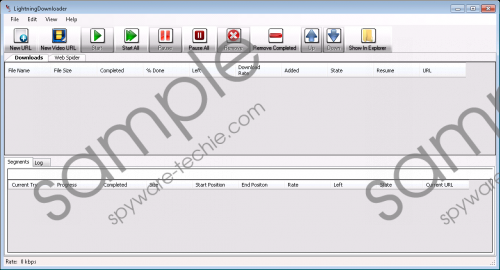 LightningDownloader screenshot
Scroll down for full removal instructions
LightningDownloader is identical to a previously published PUA called EZdownloaderpro. In fact, even the promotional text is exactly the same for both on their official websites. LightningDownloader is said to be a "smart and up to date application" that was created to provide you with a "comprehensive solution" to manage your daily downloads. But if you read the EULA carefully, you may find some worrying statements. This app may gather information about you, including personal details, which may be shared with third parties. You might be targeted with advertisements, which may look so relevant to you that you will be inclined to click on them. You need to understand that it is never 100% safe to click on third-party ads and sponsored links because you might end up on potentially unreliable websites. If you do not want to risk this, we recommend that you remove LightningDownloader from your computer.
If you finally decide to get rid of LightningDownloader, you can do it very easily. Since this app has an uninstaller, you can remove it via Control Panel. If you have never uninstalled applications, it might sound a bit too "techie" for you. Do not worry, though, because if you follow our guide below, you can do it yourself in no time. Keep in mind that it is advisable to check your system for potential threats if you want to be perfectly sure that your PC is all safe. We recommend using a reputable antimalware program that will automatically clean your system of all existing infections and safeguard it for you.
How to remove LightningDownloader from Windows
Windows 8 & Windows 8.1
Move the mouse cursor to the right end of the screen and click Settings on the Charm bar.
Go to Control Panel.
Select Uninstall a program.
Right-click on the unwanted program and choose Uninstall.
Windows Vista & Windows 7
Click on the Windows button in the bottom-left corner and select Control Panel.
Access Uninstall a program.
Click on the undesirable program and click Uninstall.
Windows XP
Open the Start menu and go to Control Panel.
Select Add or Remove Programs.
Find the unwanted program in the list and click Remove.
In non-techie terms:
LightningDownloader is a potentially unwanted program that might expose you to certain threats to your system's security. It may collect data about you that can be shared with third parties, it might display customized third-party ads and links, and it is also possible that it arrives with other applications that might cause you some problems. All in all, we think that it is better to remove this app if you want to make sure your system and privacy are both safe. In order to protect your PC, we recommend installing a reliable antimalware tool.