Do you know what Less2Pay is?
Less2Pay is a browser add-on that we consider adware and recommend removing from the computer. This program is promoted at lesstoplay.info and is presented as a shopping tool that compares prices, discounts, and other online deals to help you save money and time. Less2Pay may seem to be useful if you like shopping online; however, if you do not like browsing shopping websites, this program is not for you. It is important to note that Less2Pay may display some irrelevant pop-up advertisements on various websites, which is one of the reasons why you should remove Less2Pay from the computer.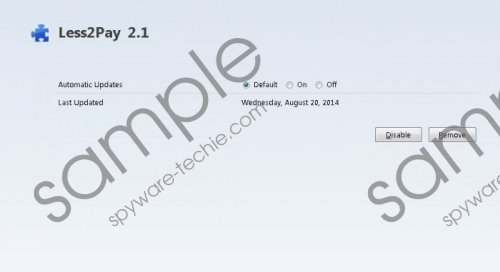 Less2Pay screenshot
Scroll down for full removal instructions
It is worth mentioning that the official website is not the only source of the program. You may encounter Less2Pay when running the installer of a media player or any other program. It is important to pay close attention to the information provided by the installation wizard so that you can prevent unwanted programs. If you are asked to install an unknown program, you should find out whether it is reliable or not.
Less2Pay is not a surprise to our team because this program is based on the JustPlugIt browser extension creation engine, which was used to create Rcoupon, LuckyCoupon, KingCoupon, and many other browser add-ons we have already discussed.
The browser add-on Less2Pay is distributed by a download manager called Installrex; moreover, the program may alter its name by adding new letters.
Another important fact about is that the developers of the program accept no responsibility for the content of web banners, pop-ups, and other advertisements. Moreover, the developers of the program accept no responsibility for the activities of third parties, which means that websites which have a poor reputation may be promoted by Less2Pay, as well as any reputable websites. Hence, you should remove Less2Pay from the computer because this is how you can rid the browsers of Less2Pay pop-ups.
The fact that adware programs are employed by cyber schemers to advertise their malicious websites is well-known to malware researchers and Internet-savvy people. If you want to prevent security issues, you should avoid using advertising-supported program and pay more attention to your online security.
Our step-by-step instructions should help you remove Less2Pay, but we recommend that you start using a reputable spyware and malware prevention program. Your computer needs protection against various threats, so do not hesitate to implement a powerful anti-malware program. Our advice is to use SpyHunter because this security tool can easily eliminate Less2Pay and safeguard the system against Internet-bases threats.
How to remove Less2Pay
Windows Vista and Windows 7
Click Start.
Select Control Panel.
Click Uninstall a program.
Remove the unwanted program.
Windows XP
Open the Start menu.
Click Control Panel.
Select Add or Remove Programs.
Uninstall the unwanted adware program.
Windows 8
Press Win+R and enter control panel.
Click OK.
Select Uninstall a program.
Remove Less2Pay.
Remove Less2Pay from Mozilla Firefox and Google Chrome
Mozilla Firefox
Press Ctrl+Shift+A and click Extensions.
Remove the unwanted extension.
Google Chrome
Press Alt+F.
Move the mouse pointer to Tools and click Extensions.
Remove Less2Pay.
In non-techie terms:
Less2Pay is an advertising-supported program which you should remove from the computer as soon as you can. In order to have Less2Pay removed, use our recommended security program. In case you do not know how to install this program, use the below-given instructions.