Do you know what Less Tabs Virus is?
If you do not want to worry about questionable third-party activity or deal with irritating advertisements, you should delete Less Tabs Virus without further delay. Have you noticed this browser plugin installed onto your Internet Explorer, Mozilla Firefox, Google Chrome browsers or the computer? One way to discover the presence of the questionable extension is by checking the appropriate extension managers. Alternatively, all you have to do is type in a keyword into your default search engine. If your search results are filtered or you are introduced to a pop-up with links to different sites, there is no doubt that the highly suspicious plugin has been installed. Note that it is important to remove Less Tabs Virus as soon as possible.
Even though some users may have the suspicious threat running without their consent, others are likely to download the plugin themselves from lesstabs.com. The site promotes the application as a tool which can save you time by taking over the management of your browser tabs. It is also stated that the plugin may help you explore the web content without leaving the particular page. Please do not think that these services are beneficial. In reality, Less Tabs Virus works as a BHO and adware which can track your virtual habits and expose you to potentially misleading online ads. If you have noticed them already, please immediately delete the suspicious browser plugin.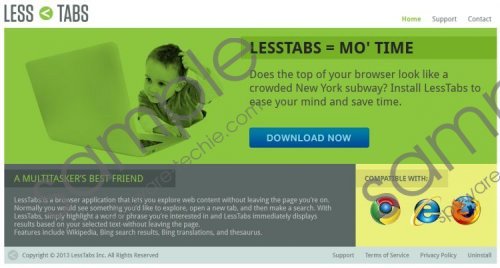 Less Tabs Virus screenshot
Scroll down for full removal instructions
The Privacy Policy of the plugin discloses that the company is affiliated to third parties which may employ cookies once you click on the ads presented by them. Needless to say, there is a possibility that some of these third parties are malicious and their tracking cookies are dangerous. Therefore, you should have no further hesitations about Less Tabs Virus removal. You can delete adware using automatic spyware removal software or you can proceed manually. To delete the plugin – delete the unwanted application from the PC.
Remove Less Tabs Virus Manually
Remove from Windows 8:
Tap the Windows key to access the Metro UI start screen.
Right-click on the background and select All apps.
Click Control Panel and then go to Uninstall a program.
Right-click the program and select Uninstall to remove it.
Remove from Windows Vista/Windows 7:
Open the Start menu and click Control Panel.
Select Uninstall a program and right-click the program you wish to delete.
Click Uninstall.
Remove from Windows XP:
Navigate to the left of the Task Bar and click Start.
Open Control Panel and double-click Add or Remove Programs.
Select the undesirable application and click Remove.
In non-techie terms:
Less Tabs Virus is a precarious browser plugin which acts as adware and which you should remove without further delay. It is best to utilize automatic spyware removal software to delete the unwanted program. Alternatively, you can use the manual removal instructions presented above. Note that after this it is a must to employ a reliable spyware scanner to examine the computer.
Aliases: LessTabs Virus.