Do you know what Leadtrack.pro is?
Leadtrack.pro is an advertising service that users blame for displaying tons of irritating commercials to them; however, it does not, technically, show any ads itself. Instead, it causes redirections to other advertising networks that then present users with advertisements. Only a small number of users open Leadtrack.pro themselves. As has been observed by our team of experts, users are usually redirected to this domain against their will. For example, this might happen when they click on some kind of suspicious link or open a domain causing redirections to this server. Some users have reported that they see Leadtrack.pro pop-ups periodically no matter what they do, and we, actually, believe them. If advertisements appear on your screen out of the blue too, there is a huge possibility that their appearance is directly linked to malicious software installed on your computer. In most cases, it turns out to be some kind of advertising-supported application, or adware. If you suspect that this is the reason you see commercials coming from Leadtrack.pro either, check all programs listed in Control Panel. It is often possible to remove adware programs like normal applications.
As you already know, Leadtrack.pro might present you with advertisements if you enter Leadtrack.pro yourself, visit shady websites, or have an advertising-supported application installed on your computer, but specialists say that the content of these advertisements should be the same in all the cases. They often promote various products, services, and offer to download "useful" software. Also, you might be offered to participate in a lottery by simply providing some personal details, e.g. name, surname, and email address about yourself. Needless to say, it is a very bad idea to enter personal information because all these details might end up in cyber criminals' hands and later used for fraudulent purposes. Also, you might start receiving spam. Specialists do not recommend downloading promoted applications either. They say that there are no guarantees that these programs are 100% trustworthy. As you have probably understood, it is advisable to ignore all these advertisements. Close them all immediately if they appear on your screen and hurry to erase adware installed on the system. As mentioned, in some cases, ads will no longer bother you when close your web browser and do open the same shady websites ever again, but we cannot promise that this will work in your case.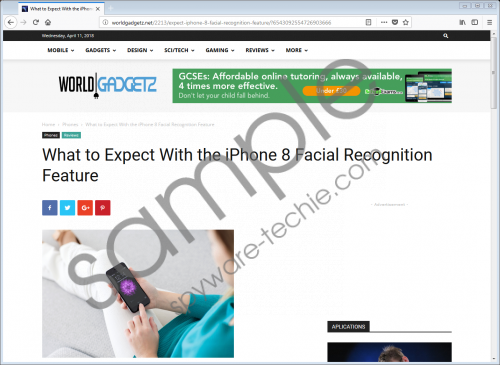 Leadtrack.pro screenshot
Scroll down for full removal instructions
The appearance of Leadtrack.pro advertisements might show that you visit dubious pages or there is an adware program opening Leadtrack.pro for you automatically installed on your computer. Do not be so sure that you do not have it installed because these programs are known to be quite sneaky. They often travel bundled with various third-party applications, so they manage to enter computers unnoticed. Adware programs are not the only untrustworthy applications that are spread in software bundles, so make sure you install new software more carefully from now on so that you could notice all these additional offers. Also, our security specialists highly recommend having a powerful security application enabled because it will recognize bad software before it could enter your system. Users should understand one thing – they cannot become careless after enabling security software on their computers.
Close your web browser immediately if you see Leadtrack.pro pop-ups, but, unfortunately, there are no guarantees that these advertisements will not show up on your screen ever again. They might reappear at any time, and we are sure that this will happen sooner or later if you have an adware program installed on your computer. In such a case, go to find that program on your PC and delete it mercilessly. It might be any adware program, so we cannot promise that its removal will be something very easy.
How to remove Leadtrack.pro pop-ups
Delete suspicious software from your PC
Windows XP
Click Start.
Select Control Panel.
Click Add or Remove Programs.
Select the untrustworthy application.
Click Remove.
Windows 7/Vista/8/8.1/10
Launch Run (press Win+R).
Enter Control Panel and press Enter.
Go to Uninstall a program.
Select untrustworthy software.
Click Uninstall.
Reset Internet Explorer/Mozilla Firefox/Google Chrome
Internet Explorer
Open Internet Explorer.
Access the Tools menu (press Alt+T).
Click Internet Options.
Open the Advanced tab and click Reset.
Check the box next to Delete personal settings.
Click Reset.
Mozilla Firefox
Open Mozilla Firefox.
Click the menu button (top-right corner).
Click on the question mark and select Troubleshooting Information.
Under Give Firefox a tune up, click Refresh Firefox.
Click Refresh Firefox in the confirmation box.
Google Chrome
Stat Google Chrome and press Alt+F simultaneously.
Select Settings.
Click Advanced at the bottom.
Click Reset.
Confirm the browser reset.
In non-techie terms:
Leadtrack.pro is an advertising domain that presents users with various advertisements. Users usually get redirected to it from another website, or they might see pop-ups with the Leadtrack.pro address on their screens periodically. This usually means that there is untrustworthy software, e.g. adware installed on the system. In such a case, the only way to remove those annoying ads from the screen is to delete that program fully.