Do you know what Launchpage.org is?
Browser hijackers are among the most annoying programs that are roaming the web these days. It goes without saying that you must avoid them at all times. A recently discovered program of this category goes by the name of Launchpage.org. If you ever come across it, be sure to refrain yourself from it at all times. It is crucial to do so because it functions in a devious and invasive manner. It is fully capable of making devious changes to your web browser's default settings without any notification. Due to such functionality surfing, the web will become a much more annoying and frustrating experience. Read the rest of this report to find out more about devious inner workings of this hijacker. In this article, you will also find a few virtual security tips along with detailed removal instructions that you should use to delete Launchpage.org once and for all.
Launchpage.org affects popular web browsers such as Internet Explorer, Google Chrome, and Mozilla Firefox; thus nearly every user could fall prey to this browser hijacker. Once it gains full access to your operating system, it will immediately make invasive and unauthorized modifications to files of the mentioned browsers. The files affected by this hijacker are related to your default homepage; thus, it is not surprising that once this intrusive program is done doing its dirty work, your homepage will be altered. The website assigned as your new homepage is crafted in a clever manner since it mimics an authentic Google start page. Therefore, some users might not even realize that this intrusive application is active on your PC. The main difference is that the hijacker's website presents six not customizable thumbnails of frequently visited sites instead of eight fully customizable ones. However, if you happen to use Mozilla Firefox or Internet Explorer as your default browser, the change will be quite obvious. Even though this modification might not seem like a big deal, you should know that it will have a huge effect on the way you experience the web. That is so because you will be simply forced to use the newly appointed homepage at all times whether you like that or not. To regain your web browser's default functionality once and for all you need to execute a complete removal of Launchpage.org at the very same time that it is found active on your PC; otherwise, the devious change will continue to bother you.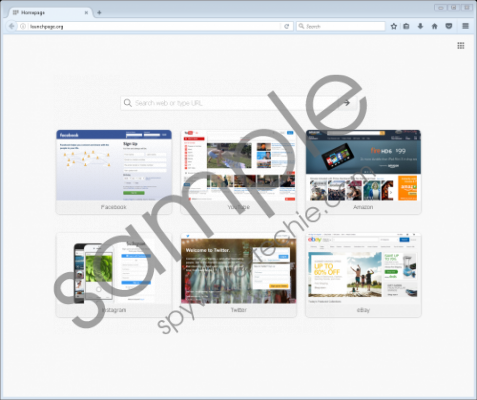 Launchpage.org screenshot
Scroll down for full removal instructions
To avoid programs such as Launchpage.org and other suspicious programs, you must take precautionary steps to improve your overall virtual security. Since in quite a few cases this hijacker like a lot of other dubious programs is spread via software bundles it is important to avoid third-party download websites as they are known to host such devious setup files. Downloading all of your programs from their developers' websites only is a good way to lower the risk of coming across an installer that is full of devious and even potentially dangerous software. Furthermore, our research team advises you to always pay your full attention to every single installation procedure. Unfortunately, quite a few users allow a suspicious program to be installed on their PC as they do not read everything that is on the screen during the setup. By simply paying attention to every single step you could come across a chance to cancel the installation of some unwanted program. Finally, and most importantly, every security-conscious user should have a professional antimalware tool active on their PC. Such a tool is the most important part of your overall virtual security as it can detect, warn, and even terminate any virtual threat in a fully automated manner. These seemingly simple preventative steps will have a hugely positive effect on your overall virtual security.
Do not waste your time and delete Launchpage.org once and for all. Only by terminating every single bit of this browser hijacker will you be able to stop its intrusive functionality altogether. Keep in mind that leftovers associated with this hijacker could prove to be quite dangerous as they might be used for a silent restoration procedure. To be sure that the removal of Launchpage.org has been successful we advise you to run an in-depth analysis of your PC for its potential traces. If you happen to find anything any files or registry entries associated with this hijacker make sure delete them immediately.
How to remove Launchpage.org from your web browser
Google Chrome
Open your File Explorer.
Go to C:\Users\(your username)\AppData\Local\Google\Chrome\User Data\Default.
Select and delete files entitled:
a) Preferences.
b) Secure Preferences.
c) Web Data.
Right-click your Recycle Bin and select Empty Recycle Bin.
Mozilla Firefox
Open your File Explorer.
Navigate to C:\Users\(your username)\AppData\Roaming\Mozilla\Firefox\Profiles\(unique Mozilla profile ID).
Right-click a file called prefs.js and select Delete.
Right-click your Recycle Bin and select Empty Recycle Bin.
Internet Explorer
Click the Windows button.
Type regedit into a search field and tap Enter on your keyboard.
Go to to HKEY_CURRENT_USER\Software\Microsoft\Internet Explorer\Main.
Right-click a registry value entitled Start Page and select Modify.
Replace the unwanted URL with a new one and then click OK.
In non-techie terms:
If you are a user that finds manual removal and analysis of your entire operating system too complicated, do not worry. malware researchers at Spyware-Techie.com have crafted an alternative removal guide. Follow the instructions below and you will remove this browser hijacker in a fully automated manner.