Do you know what LataRebo Locker Ransomware is?
LataRebo Locker Ransomware is a devious program that should never be active on your personal computer. Like other ransomware programs the one in question could act in an extremely malicious manner. It might be capable of locking your personal data in a quick and silent manner and such functionality could have detrimental outcomes. It is important to note that the majority of users infect their PC with this malware because they lack knowledge about virtual security and its importance. Thus in our report, we provide a few preventative tips that will allow you to maintain a fully secure system at all times. We also provide further information regarding the inner workings of LataRebo Locker Ransomware and its removal guide that you should use as soon as it is found up and running on your personal computer.
During the initial examination of LataRebo Locker Ransomware, our research team has discovered that this ransomware program could be in its testing phase since at the moment it does not encrypt user's personal data. While this is the case right now, you should know that this devious program could be updated and might start locking your personal files anytime. Thus, being aware of it is essential. Once this intrusive application enters your operating system, it will launch a suspicious process, which will kill your explorer. Right after this is done, you will be presented with a warning message. This message will block access to the desktop, which essentially means that for as long as this invasive program is active on your operating system you will not be able to use your computer. To regain full access to your PC, you are asked to pay 10€ and then contact the developers of this application via Facebook. We highly advise you not to make any payments as it is likely a scam used to lure money from unsuspecting Internet users. You can regain full access to your personal computer by executing a complete removal of LataRebo Locker Ransomware. Thus, contacting cyber crooks and making a payment would be a waste of time and money. Make sure not to waste any time and delete this devious application by following the removal guide that we provide below; otherwise, you will not be able to use your PC.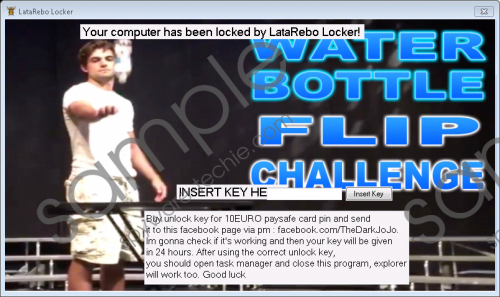 LataRebo Locker Ransomware screenshot
Scroll down for full removal instructions
If you want to avoid LataRebo Locker Ransomware or any other potentially harmful programs so you could keep your operating system clean and secure at all times, you must take a few precautionary steps. To improve your overall virtual security, you need to practice safe browsing habits. Firstly, you need to avoid all questionable third-party download websites as they are the primary source of bundled installers, which are infamously used by cyber crooks as a way to spread their devious products. Make sure to download all of your programs from their official vendors' sites only as they provide clean setup files. Also, you should be aware of the fact that malware developers often use misleading marketing techniques to trick unsuspecting Internet users into downloading and installing their suspicious application without understanding how it works. Thus, we highly advise you to always learn as much as possible about the program that you want to have before even obtaining it. You can check the name of an application that you wish to have on your PC on our website. This way you might be able to avoid any potentially malicious program. Finally, and most importantly, every security-conscious user should have a professional antimalware tool on their PC. Such a tool is critical because it can identify and remove any virtual threat automatically.
The complete removal of LataRebo Locker Ransomware must be executed as soon as possible as it could start acting in a malicious manner without any warning. Make sure to follow the instructions that we provide below with care since a single mistake could result in an incomplete removal. This is a situation you do not want to face as leftovers of LataRebo Locker Ransomware could be enough for it to function. In other cases, those same traces might be used to restore the devious program in question. To be sure that you have terminated every single bit of LataRebo Locker Ransomware perform a detailed analysis of your computer for its potential leftovers.
How to remove LataRebo Locker Ransomware
Tap Ctrl+Alt+Delete on your keyboard.
Select the Processes tab.
Select the malicious process and click End Process. Keep in mind that the name of this process is randomized.
Open your File Explorer.
Go to C:\Users\(your username)\Downloads.
Select the malicious .exe file and then remove it. Remember that the name of this file is randomized.
In non-techie terms:
If you find manual removal and analysis of your personal computer a bit too complicated, do not worry. You can find alternative instructions crafted by our research team below. By following them, you will be able to delete LataRebo Locker Ransomware in an automated manner.