Do you know what LastPass is?
LastPass is a rogue browser extension that emerged in the Google Chrome web store pretending that it is indeed a legitimate application, a password manager. This application was created by AdGetBlock, which is a rather suspicious name when it comes to a password manager. According to our researchers, this browser extension has been blocked by Chrome and the link is unavailable now. Therefore, it is not likely that the number of victims grows, but this extension can still be on your computer if you installed it formerly. We are here to tell you about the possible risks this fake application may hold for you and your computer. Please read our full report to learn how or why we advise you to remove LastPass from your PC.
Our researchers have found that the only source for users to download and install this browser extension used to be the Chrome web store at this address: chrome.google.com/webstore/detail/lastpass-free-password-ma/fbcbacllniphpeoblhnelengbdndhoof. If you check out this URL, you will find yourself on an "Item not found" page, which is the result of the removal of LastPass from the store. If you Google the unique Chrome ID (fbcbacllniphpeoblhnelengbdndhoof), however, you may still find the web store link active among the results. This could mean that LastPass has been removed only very recently. Therefore, it is quite possible that it can be found on infected computers. You may think that just because the Chrome web store is reputable, all the extensions you find there are legitimate and trustworthy. So here is another application that proves to be potentially harmful and blocked by Google.
This means that you need to be extra careful whenever you download free software from the web. We recommend that you always use official websites or highly recommended vendors. Otherwise, you may end up on a shady file-sharing site that is totally unfamiliar to you, and you may click on unsafe content that could result in your downloading a malicious bundle packed with malware threats. If this ever happens to you, it is important to scan your system with a reliable malware scanner right after you delete LastPass or any other threat you may identify.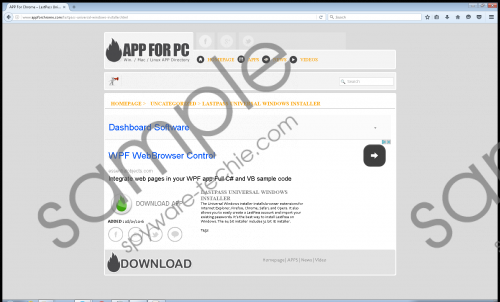 LastPass screenshot
Scroll down for full removal instructions
The rouge LastPass Chrome extension is a knock-off of a legitimate program that is a virtual security vault to store your passwords in, and is available at its official site at lastpass.com. This fake version also used to promote itself in the web store as "all your passwords in a security vault"; however, the unsuspecting user gets something very different. When you click on the icon of this adware, it does not actually run any codes or functions; instead, it redirects to a specific webpage, appforchrome.com/download.php?id=75. This website (appforchrome.com) is quite questionable as it is filled with potentially unreliable third-party ads. As a matter of fact, at first sight you do not even know where to click to download the offered application. Only a tiny "Click here" text link is provided to download the actual and legitimate LastPass. But it is more likely that you will click on the annoying and misleading download buttons or links on the page that practically surround this legitimate link. If that happens, you will be redirected to the promotional webpage of some useless and potentially harmful application created by the infamous Mindspark Interactive Network, Inc. As you can see, this browser extension is totally useless and may even assist you in infecting your computer with unreliable programs, such as bad toolbars. If you want to feel safe while using your computer, we recommend that you delete LastPass right away.
Since this infection only affects Google Chrome browsers, you can simply remove the extension through the settings menu. It is also possible that this tool is already blocked by Chrome, but we have included instructions in case you want to remove LastPass manually. If you want to be certain that there are no other threats on your PC and that it is protected from future attacks, we recommend that you download and install a reliable anti-malware program. The best thing you can do to safeguard your system is to have a security tool, but you should know that it is still very important that you keep your operating system, browsers, and all other third-party programs as well as your Java and Flash drivers regularly updated for best results.
Remove LastPass from your browser
Google Chrome
Tap Alt+F and go to More Tools.
Select Extensions.
Click on the extension and click on the trash can icon.
Click Remove.
In non-techie terms:
LastPass is a fake Google Chrome extension that is not easy to categorize. Since it pretends to be something it is not and it can redirect to websites that host potentially harmful third-party ads, our researchers have labeled it as adware. It seems that the Chrome web store has already removed this extension so it is actually impossible to download it from the web. Since this adware can expose you to potentially unreliable web content, we advise you to remove LastPass ASAP. However, not taking care of all the other potentially harmful programs that may be on your system could have a rather unhappy ending for your computer and your files. That is why we suggest that you install a professional anti-malware application so that you can eliminate all threats as well as protect your PC from future attacks.