Do you know what Kuntzware Ransomware is?
Kuntzware Ransomware is one of the newest ransomware-type infections detected by our malware researchers. It still seems to be in the development process because it crashes a lot and does not encrypt a single file at the time of writing. It seems that its server is down too, but it does not mean that it cannot be fixed and become a prevalent infection one day, so we want to warn you in advance. If this infection is ever updated by cyber criminals and manages to enter your PC, it will not miss an opportunity to lock your files and then ask money. That is all ransomware infections do – they all share the same goal of extracting money from computer users. Has your computer become infected with this threat? If it is exactly what has happened to you, you need to remove this ransomware infection from your PC as soon as possible. Go to get rid of this threat no matter it has locked your personal files and now demands a ransom or it has left your data unencrypted. Ransomware infections are serious threats which are usually not easy to remove due to the modifications they make; however, it seems that it is not the case with Kuntzware Ransomware. The version analyzed by our experienced specialists does not make any dramatic changes after the infiltration, but, of course, we cannot promise that its fixed version will not apply major changes too.
Even though Kuntzware Ransomware does not work properly at present, it does not mean that it will not be updated by cyber criminals in the future. If you ever encounter a fixed version of this ransomware infection, it is very likely that you will discover a bunch of files, including pictures, videos, music, and text documents, encrypted and having a new extension .kuntzware appended to them. Next to the encryption of the personal data, you might also discover a locked screen. Ransomware infections often open windows with ransom notes on users' Desktops and do not allow them to access their files and use their PCs normally. Luckily, in most cases, it is enough to kill the main ransomware process to remove it. The window opened on your Desktop might contain a message telling about the encryption of files. Also, you might be asked to pay a certain amount of money to cyber criminals. Even if you really see such a message, do not send cyber criminals responsible for developing Kuntzware Ransomware money because you might get nothing in exchange. That is, even though you are told that you will be given the key to unlock your files right after transferring a ransom, it is more likely that you will get nothing from them. Actually, it is very likely that you do not even need the decryption key because your files have not been encrypted – your files should stay intact if you encounter a corrupted version of this infection.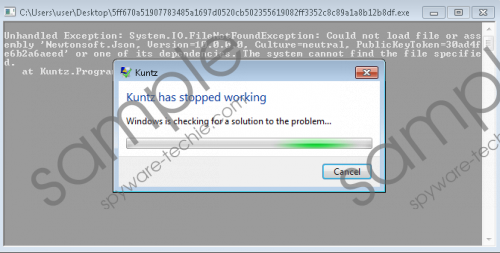 Kuntzware Ransomware screenshot
Scroll down for full removal instructions
If cyber criminals ever start actively distributing Kuntzware Ransomware, it will be disseminated using the usual distribution methods, according to experts. That is, there is basically no doubt that spam emails will be used to spread it too. Also, other malicious applications might start promoting it as well, e.g. Trojans might drop this infection on users' PCs without their knowledge. Last but not least, it might also be possible to download this infection from untrustworthy pages. Of course, they expect to get a beneficial piece of software. As can be seen, Internet is a dangerous place these days, so it would be best not to surf the web without having a security application enabled on the system.
You should start the Kuntzware Ransomware removal by checking such directories as %USERPROFILE%\Desktop, %USERPROFILE%\Downloads, %TEMP%, and %APPDATA% and removing suspicious files from them. We cannot promise that this will help though, so users who want to be sure that their PCs no longer contain a single malicious component should use a reputable malware remover instead of trying to erase malware manually from their systems.
How to delete Kuntzware Ransomware
Press Ctrl+Shift+Esc and click Processes.
Kill all suspicious processes that might be associated with the ransomware infection.
Close Task Manager.
Open the Windows Explorer by simultaneously tapping Alt+F on your keyboard.
Open the following directories one after the other: %USERPROFILE%\Downloads, %USERPROFLE%\Desktop, %TEMP%, and %APPDATA%.
Remove all suspicious files you find in these directories.
Empty the Recycle bin.
In non-techie terms:
Kuntzware Ransomware is not the only ransomware infection you might encounter, so you should not keep your system unprotected. Believe us; it is not a hard job to ensure the system's maximum protection – it would be enough to install a reputable security application. If you decide not to do anything, a ransomware infection will sooner or later enter your PC again, and your data will be locked one more time.