Do you know what Krypte Ransomware is?
Our security experts have recently analyzed a program that was dubbed Krypte Ransomware. As you can see from its name, it falls into the category of ransomware because it is designed to encrypt files on your PC and demand money to decrypt them. Unfortunately, you might not be able to decrypt your files using a third-party decryption, and you cannot be certain that this malware's developer will send you the decryption key once you have paid. Therefore, we suggest that you remove this ransomware and wait for a free decryption tool to be developed. However, if you want to find out more about it, please continue reading.
Like all ransomware-type applications, Krypte Ransomware is also distributed in a malicious manner and if it gets onto your PC, then its executable file named WinOSHelp.exe will be placed in %APPDATA%\WindowsOSHelper. Once on your PC, this executable will run automatically and scan your computer for files to encrypt. Our malware researchers say that this ransomware is currently configured to encrypt all files in %USERPROFILE% and its subfolders. According to researchers, it is set to encrypt hundreds of file types that include without limitation exe .png .3dm .3g2 .3gp .aaf .accdb .aep .aepx .aet .ai .aif .arw .as .as3 .asf .asp .asx and .avi. As a result, you will not be able to open the encrypted files, and since it is set to encrypt executables, some programs may not work or give you error messages.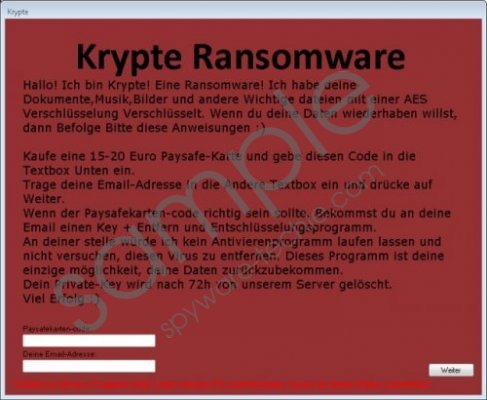 Krypte Ransomware screenshot
Scroll down for full removal instructions
Research has revealed that Krypte Ransomware uses the AES encryption method that is used to encrypt the files and the RSA cryptosystem to encrypt the AES key. This ransomware creates a decryption key that is uploaded to its Command and Control (C&C) server. It is not stored locally on your PC, so the only way you can obtain it is by paying the ransom. We also want to note that, while encrypting your files, this ransomware will append it with the .fear file extension and alter the encoding, rendering the encrypted files indistinguishable from each other.
Once the encryption is complete, it will render its Graphical User Interface (GUI) window which is written in German because, apparently, the developer is German or targets, German-speaking users. The developer wants you to pay a small fee in a 15-20 Euro Paysafe card (Ger. Paysafe-Karte.) the developer also requests you to enter your email address into the appropriate line in the GUI, probably to send you the decryption key that you also must enter in the same GUI window. Now, you can try paying the ransom, but we suspect that you will only be throwing your money away because there is no guarantee that you will get the promised decryption key. Also, it is worth mentioning that the GUI window cannot be closed that easily and you need to terminate WinOSHelp.exe for the window to close. You can do this by going to the Task Manager and ending this process.
As far as Krypte Ransomware's distribution methods are concerned, we have found that it is disseminated via malicious emails that feature a malicious zipped file attachment that runs a malicious script that secretly injects this ransomware's main executable in %APPDATA%\WindowsOSHelper. The emails it is sent in should be in German as well, but we do not know how they are presented to the would-be victim. In any case, you should resist the temptation to open a file sent from an unknown email address, especially one that attempts to convince you to open the attachment.
In summary, Krypte Ransomware is one malicious application that is capable of encrypting your files. There is no guarantee that you will be able to decrypt your files once you have paid the ransom, so pay it at your own risk. In any case, you will need to delete it because it will not do it on its own. You can use SpyHunter, our recommended anti-malware tool or our manual removal Guide provided below.
Removal Guide
Hold down Ctrl+Alt+Delete.
Select Task Manager.
Click Processes.
Find WinOSHelp.exe
Right-click it and click End Process.
Then, hold down Windows+E keys.
In the File Explorer's address box, type %APPDATA%\WindowsOSHelper and hit Enter.
Find WinOSHelp.exe, right-click it and click Delete.

In non-techie terms:
Krypte Ransomware is a typical ransomware whose purpose is to encrypt the files on your computer and demand that you pay money to decrypt them. Research has revealed that it is distributed via email spam that injects this ransomware on your computer secretly. We recommend that you remove it instead of paying the ransom because there is no guarantee that you will get the decryption key.