Do you know what Krab Web is?
Undoubtedly, Krab Web is an application that you really don't want to have on your system, and you know why? Because it's an adware application, and like all adware applications, users should remove it. You might be tempted to install this application because it promises to enhance browsing experience by comparing prices of various products, and find the best offers featured on online stores. However, claiming that it will enhance user experience is a very obscure statement to make. We believe that it is simply a marketing trick to lure people into downloading this adware app. In reality the application is useless; therefore, this article is dedicated to provide in-depth information about what it can and can't do.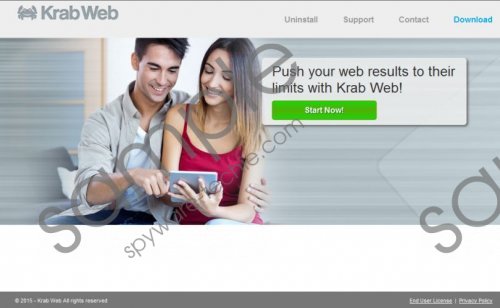 Krab Web screenshot
Scroll down for full removal instructions
Krab Web is advertised as an application that is set to enhance browsing experience. Even though it might sound like a good investment, it being free after all, we advise you to stay away from it, because, as mentioned, it is an adware application that is developed for one purpose and one purpose only, that is to make money for its developers and the third parties that they promote. Krab Web makes that money by generating web traffic to sponsored websites by displaying pop-ups, banners, in-text ads, and so on. In addition, it might be utilized to collect information that is used to make changes to marketing strategies as well as provide customized ads to a specific user. Nevertheless, this adware has more serious problems.
These days all advertising platforms have one major issue for which they should all be removed. Ad platforms sponsor any website as long as they get paid. Some of the ads may be aimed to promote a certain application that may prove to be unreliable. Such unreliable applications may come in the form of various toolbars, optimization utilities, and so on that could compromise system security. In addition, Krab Web might redirect you to a website, which could infect your system with malware. Furthermore, the adware could redirect you to a shopping website that will outright rob you of your money and will not deliver you the item that you have purchased. Now when we know what it does and what dangers it poses, we must touch on where Krab Web comes from and how it is distributed.
Have you ever heard of SuperWeb? Well if you have, then you will not be surprised to find that Krab Web has been developed by this company. This company has a long history of developing adware applications that are nothing more than clones of each other. These clones include PortalMore, HasBrowse, Cantataweb, and so on. It must be said the one should not trust any applications that have been developed by SuperWeb. In fact, one should delete them, because they are of no value to the user. Like most adware, SuperWeb adware utilizes software bundling to distribute itself around the web.
We at Spyware-Techie.com recommend users to delete Krab Web as it offers no online protection while browsing. Quite the opposite, it subjects your computer to potentially dangerous advertisements that if clicked, could possibly infect your system with various malicious applications that might have a detrimental effect on it.
How to remove Krab Web
Windows 8 and 8.1
Open the Start Screen.
Type Uninstall in the search box and then go to Settings.
In the search results, click Uninstall a program.
Find Krab Web.
Uninstall it.
Windows 7 and Vista
Click Start.
Select Control Panel.
Click Uninstall a program.
Find Krab Web.
Uninstall it.
Windows XP
Open the Start menu.
Click Control Panel.
Select Add or Remove Programs.
Find Krab Web.
Uninstall it.
In non-techie terms:
In short, Krab Web offers no security of any kind. Furthermore, it is considered adware that promotes unreliable websites that can infect your system with all kinds of malware that will, undoubtedly, cause severe damage to your computer. Thus, we urge you to remove Krab Web in order to prevent malicious applications from compromising your system's security.