Do you know what Kovter Virus is?
If Kovter Virus, which is a malicious Trojan infection, enters your system, you will definitely notice a misleading warning that has covered your entire screen. The appearance of this warning might differ according to the place of residence; however, it is used for one purpose in all the cases – to extort money from computer users. As Kovter Virus is a fraudulent program, it is not worth trusting any of its word, which means that various logos of such institutions as U.S Department of Homeland Security and Department of Justice are only used for illustrative purposes. However, keep in mind that the interface might differ depending on the place you live. Do you suspect that Kovter Virus has already entered your system? You should continue reading the article in order to ascertain whether it is true. You will receive some of the information regarding the removal of Kovter Virus as well.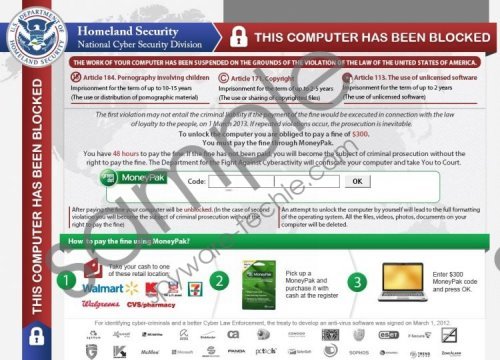 Kovter Virus screenshot
Scroll down for full removal instructions
As the main aim of Kovter Virus is to earn money, do not be surprised if you notice that you are asked to pay a ransom of $300. The sum might differ depending on the place you live; however, the reason, which is stated on the warning, is usually the same – you have violated some laws. In most cases, you will be accused of downloading and distributing child pornography. However, according to Kovter Virus, you might avoid a bigger fine and even imprisonment if you just pay $300. In this sense, Kovter Virus acts rather similarly as FBI Virus, Carabinieri Virus, and other ransomware. We do not recommend paying money because you will not be able to get them back and cyber criminals might even use your credit card details, which you will enter during the payment, for some unfair purposes.
Another feature, which might help you to identify Kovter Virus, is the observation that the ransom has to be paid using MoneyPak, which is a legal money transfer service. In some cases, you might notice that you are asked to pay via Ukash. Even though both of these services are legal, cyber criminals choose them because they seek to stay anonymous. However, if you ever notice that you are asked to pay money using any of these money transfer services, make sure that they are not requested by schemers.
In order to use your system normally again, it is important to get rid of Kovter Virus entirely. Unfortunately, the manual removal is very difficult and might not be helpful, which is why we recommend scanning the system with a reliable antimalware tool, for instance, SpyHunter. It is very probable that you will not be able to download it easily as your screen will be locked; thus, you should use the instructions provided below the article. They will help you to access your browsers and download a security tool.
In non-techie terms:
If you do not want to infect your system with various other infections similar to Kovter Virus, you should know that you have to keep your antimalware tool enabled all the time. Of course, it is important to install a reliable antimalware tool on your system. If you are interested in our opinion, we believe that SpyHunter scanner is one of the most reliable ones, which is why you should not hesitate whether it is worth installing it on your system.
How to get rid of Kovter Virus From Windows 8

Windows 8
Tap the Windows key.
Select Settings and then click Change PC Settings.
Click General and then move to Advanced Startup.
Click the Restart now button.
Select Troubleshoot and then click Advanced options.
Select Startup Settings.
Click the Restart button and tap F5 straightaway.
Visit http://www.spyware-techie.com/removal and download a security tool.
Launch the scanner and let it delete all the existing infections.