Do you know what Kometa browser is?
Kometa browser is a genuine web browser that you can install on your computer yourself. However, this web browser is not 100% safe, so computer security experts recommend removing Kometa browser from the affect systems immediately. If you care about your system's security, you will see to it that Kometa browser gets deleted from your computer at the earliest convenience. You shouldn't keep programs that could lead to dangerous security issues. What's more, if you think there might more unwanted applications on your computer, you should definitely scan your computer with a licensed antispyware tool.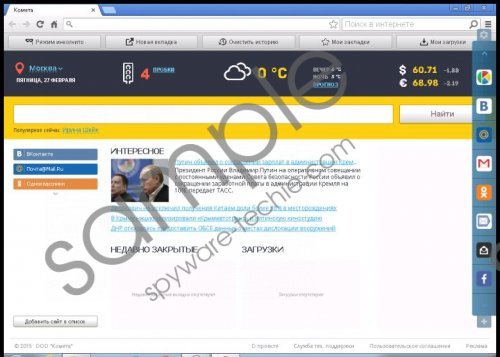 Kometa browser screenshot
Scroll down for full removal instructions
Kometa browser is based on the Chromium engine, so it might look familiar as the design closely resembles that of the Google Chrome. However, that is the only resemblance there is. Kometa browser is mainly targeted at the Russian speaking users, but programs can easily cross borders, so if you do not visit kometa-browser.ru where it is possible to download this broad directly, chances are you installed Kometa browser accidentally because the program can also come in software bundles. That is why we emphasize there definitely are more unwanted programs on your computer that could expose you to corrupted websites and thus you must remove them.
However, Kometa browser alone is enough to raise the alarm because our research lab team has found some of the browser's files might contain Trojan downloaders. As a result, with the browser working in the system background, it might connect to a remote command and control center over the Internet to download more malware onto your computer. What's more, Kometa browser comes with a number of annoying features itself. For example, it installs a desktop widget that has built-in icons and a Settings panel. It might look like a useful feature, but in reality it just hogs your screen space and clutters your desktop.
There is a reason users complain about Kometa browser. The point is that it is not as useful as it claims to be, and, on top of that, the browser is known to come bundled with additional adware that might interrupt your web browsing process with constant flow of commercial pop-ups. In short, Kometa browser brings more trouble than does any good, so it is important to get rid of it.
Fortunately, it is not complicated to remove Kometa browser on your own. All you have to do is access Control Panel and delete the application from the list of installed programs. Nevertheless, after manual removal you should scan your system once more with a licensed antispyware tool because Kometa browser is known to leave some files that could still prove to be detrimental to your system's security.
How to Remove Kometa browser
Windows 8 & Windows 8.1
Slide the mouse cursor to the bottom right corner of your desktop.
When the Charm bar opens, click Settings and go to Control Panel.
Select Uninstall a program and remove Kometa browser.
Windows Vista & Windows 7
Open the Start menu and select Control Panel.
Go to Uninstall a program and remove Kometa browser.
Windows XP
Press the Windows key and navigate to Control Panel.
Select Add or remove programs and uninstall Kometa browser.
In non-techie terms:
Kometa browser is an application that has been created to help you browse the Internet. However, it is a potentially unwanted program that might inadvertently redirect you to dangerous websites, and you could end up getting infected with malware. Therefore, you need to remove Kometa browser from your computer, making sure your system is safeguarded against similar threats.