Do you know what KnowTheBible Toolbar is?
KnowTheBible Toolbar is a browser plug-in that can test your knowledge of Bible. If you consider yourself knowledgeable in that area, you may want a browser add-on that could keep your knowledge stimulated all the time, but in such a case we definitely do not recommend KnowTheBible Toolbar. The plug-in is actually a potentially unwanted application that can be intrusive and even potentially dangerous in a sense that KnowTheBible Toolbar may expose you to unreliable third party content. Any security-minded user would remove KnowTheBible Toolbar from his computer today.
In fact, there is nothing new or unknown about KnowTheBible Toolbar, because it is developed by MindSpark, and as a result it functions just like any other toolbar from the same family, including ButterflyField Toolbar, Zwinky Toolbar or OnlineMapFinder Toolbar. Granted, these are not malicious computer infections, because users generally install them onto their computers willingly (albeit unwittingly). KnowTheBible Toolbar can also be downloaded and installed at will from its homepage at bibletriviatime.com.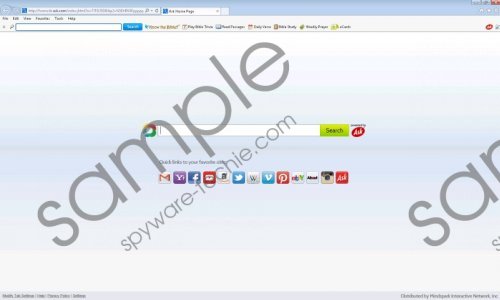 KnowTheBible Toolbar screenshot
Scroll down for full removal instructions
KnowTheBible Toolbar is compatible with all main browsers although the removal methods may differ based on what is your default browser. Take note of the fact that some users mistake KnowTheBible Toolbar for a browser hijacker, because it can also perform default browser settings modifications. KnowTheBible Toolbar changes default homepage and search engine to Ask.com. However, these changes are generally solicited by users themselves, and if you do not remember allowing any modifications, you most probably skipped the toolbar installation step that mentioned the oncoming changes.
Ask.com actually used to be a question answering0based web search engine and there is nothing illegal about it. However, Ask.com abandoned the search engine industry back in 2010 and so it is very likely that there is a third party that is making use of Ask.com to make an impression that KnowTheBible Toolbar can also provide you with reliable search provider.
KnowTheBible Toolbar does not pose any specific security threats itself, but the application is vulnerable to third party exploitations. Users are often encouraged to remove such plug-ins from their browsers to avoid various computer threats and other security risks.
You can remove KnowTheBible Toolbar manually following the removal instructions right below this description. Take note that browser settings restoration differs from browser to browser. Also, once you have done removing everything, make sure you scan the PC with SpyHunter free scanner to be absolutely sure that no other unwanted applications are left in the system. Please do not hesitate to leave a comment if you have any further questions.
How to remove KnowTheBible Toolbar
Windows 8
Move mouse cursor to the bottom right of the screen.
When Charm bar appears, click Settings and go to Control Panel.
Select Uninstall a program and remove KnowTheBible Toolbar.
Windows Vista & Windows 7
Open Start menu and click Control Panel.
Select Uninstall a program and remove KnowTheBible Toolbar.
Windows XP
Click Start menu button and navigate to Control panel.
Double-click Add or remove programs and uninstall KnowTheBible Toolbar.
Remove KnowTheBible Toolbar from browser
Internet Explorer
Press Alt+T and click Internet options.
Open General tab and press Use Default button. Click OK.
Press Alt+X and go to Manage add-ons.
Click Search providers on the left.
Set a new default search engine and remove Ask Search. Click Close.
Mozilla Firefox
Press Firefox button and click Options.
Open General tab, click Restore to Default button and click OK.
Click the search engine icon on the left of Firefox search box.
Select Manage search engines on drop-down menu.
Remove Ask Search from the list and click OK.
Press Firefox button again and go to Add-ons.
Disable and remove KnowTheBible from Extensions. Restart browser.
Google Chrome
Press Alt+F and click Tools.
Select Extensions and remove KnowTheBible from the list.
Click Settings on the left.
Mark Open a specific page or set of pages under On Startup.
Click Set pages and change your homepage address. Click OK.
Select Manage search engines under Search.
Set a new default search engine, delete Ask search and press Done.
In non-techie terms:
KnowTheBible Toolbar is a potentially unwanted application that might make your system vulnerable to outside threats. Your best choice in this situation is to remove KnowTheBible Toolbar for good. To protect your computer system from harm, you should also consider investing in a powerful antimalware tool.