Do you know what Klip Pal is?
Klip Pal is a browser add-on owned and maintained by SuperWeb LLC, a company that owns multiple identical programs, such as Fortunitas, DoughGo, Glomatron, Zippy Zarp, and many others. The latest products of SuperWeb are compatible with Internet Explorer and Mozilla Firefox, and this novelty applies to Klip Pal, too. Klip Pal displays pop-up advertisements, web banner, coupons, interstitial advertisements, in-line ads, and some other advertisements; however, none of them belongs to Klip Pal. Klip Pal is sponsored by third parties and is not liable for all those ads sent to your browsers; hence, we advise you to remove Klip Pal from the computer right now.
The browser add-on is promoted at klippal.com; however, you can acquire this program only from bundled installers. Klip Pal may be bundled with insecure programs, and you should always pay close attention to every instance of software installation and keep the system protected.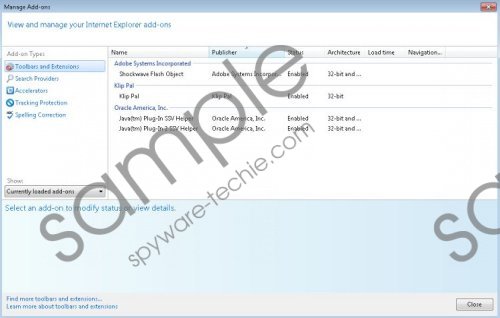 Klip Pal screenshot
Scroll down for full removal instructions
Klip Pal is an adware program, and, by installing it on the computer, you agree to be provided with third-party ads. Moreover, you understand that Klip Pal accepts no responsibility for any damage that follows your interaction with third parties. Klip Pal may flood your browsers with tens of unreliable advertisements, some of which have already been recognized by malware researchers. For example, you should ignore advertisements promoting updates. It is very likely that such ads will take to websites distributing bundled installers, which means that, in addition to an update for some software, you will be offered several additional programs. You should also disregard pop-ups claiming that you are the winner or could be the winner of a prize. Moreover, ignore online surveys and quizzes because they are likely to be aimed at obtaining your personal information or making you subscribe to a mobile service.
If you are still considering whether you should remove Klip Pal from your browsers or not, bear mind that the program automatically collects information about you. It records your clicks, impressions, search terms, browser settings, and other details. In some cases, personally identifiable information, such as name or email address, may be recorded. This adware program monitors you so that the information collected could be used to improve the quality of the program and provide you with new advertisements. The fact that you are reading this review suggests that you want to get rid of Klip Pal, so keep on reading to find out how to do it with ease.
Klip Pal has its uninstaller but we recommend that you remove Klip Pal using a powerful anti-malware program especially if you have no security program. The operating system is susceptible to malware and spyware threats, and you should not wait any longer. Install our recommended security program so that you can get rid of Klip Pal and browse the Internet safely.
How to remove Klip Pal
Windows Vista and Windows 7
Click Start.
Select Control Panel.
Click Uninstall a program.
Remove Klip Pal.
Windows XP
Open the Start menu.
Click Control Panel.
Select Add or Remove Programs.
Uninstall Klip Pal.
Windows 8
Press Win+R and enter control panel.
Click OK.
Select Uninstall a program.
Remove the unwanted adware program.
In non-techie terms:
If you want to be sure that Klip Pal is no longer present on your computer, you should install a powerful scanner. Our recommended scanner is available free of charge, so do not hesitate to download it. In case you do not know how to do it, use the below-given instructions.