Do you know what KKK Ransomware is?
KKK Ransomware is a treat that holds its victim's data as a hostage to make him pay a ransom. We do not think it would be wise to let the cyber criminals behind the infection extort money from you. First of all, there is no proof they have the decryption key you need for unlocking your data. Secondly, no matter how much they are asking for you to pay now, it might appear to be not enough for them later. Users who are not willing to take any chances should get rid of this malicious program at once. To guide you in this task we prepared a removal guide available at the end of this report. However, we encourage users to invest a couple of minutes and read the full article first to learn more about KKK Ransomware.
Our specialists suggest the malware could enter the system if the user visits malicious web pages or downloads any suspicious data infected with KKK Ransomware. Thus, the malicious program's installer will most likely be a recently downloaded setup file, update, email attachment, or any other file that could be located in the Downloads, Desktop, Temporary Files, etc. Apparently, the threat does not need other data to function. On the contrary, it is entirely possible the infection will start encrypting the victim's files one by one right after the launch. As a result, you might find all your photos, pictures, videos, and other private data was damaged. The only good news is that the threat should not damage program data or files belonging to the device's operating system.
We cannot say how long it might take to lock user's files as it depends on how much and what kind of data you have on the computer. Nonetheless, when the malware finishes damaging its targeted data, the user should notice a text file placed on his Desktop. The document should be named READ_IT.txt; the message inside might say "Files are encrypted with KKK Ransomware. If you wish to decrypt your files read the program that has popped up." The quoted sentence refers to the malicious program's web page (http://filetimemanager.cf). It is supposed to be loaded automatically on the user's default browser.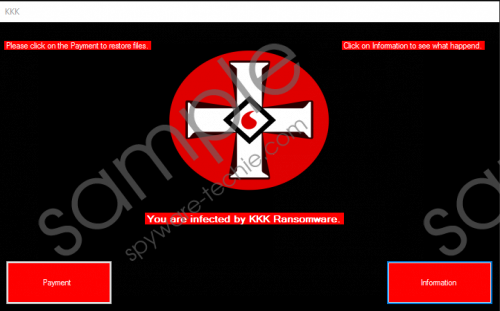 KKK Ransomware screenshot
Scroll down for full removal instructions
What's more, the opened link should show a countdown showing how much time you have to buy a decryption key. Further information is provided through Payment and Information buttons. From them, we have learned that the malware's developers want to receive 0.05 Bitcoins or around $129. Perhaps, the sum is not very huge, but as we said in the first paragraph, the cyber criminals could scam users and leave them with no files and smaller savings. Therefore, if you do not wish to waste money on a tool you are not guaranteed would be ever provided, we encourage you to ignore the infection's note and concentrate only on KKK Ransomware's removal.
There are two ways to eliminate the malicious program, so you can pick one based on your experience and skills with threats alike. The manual deletion is more complicated in this situation since the infection disables user's Task Manager. The removal guide we added below the main text will show you how to re-enable Task Manager, while the second part will tell you how to get rid of data associated with the malware. The simpler way to erase KKK Ransomware is to install a reputable antimalware tool and do a full system scan. Afterward, all the user has to do is click the deletion button. Provided, you have any questions related to it or its deletion, you can also leave a comment below the report or reach us through social media.
Enable Windows Task Manager
Press the Windows button.
Type gpedit.msc in the Windows search line and launch gpedit.
Navigate to the provided location: User Configuration\Administrative\Templates\System\Ctrl+Alt+Del Options
Select Remove Task Manager.
Choose Disabled or Not Configured.
Press OK.
Delete KKK Ransomware
Press Ctrl+Alt+Delete to access Task Manager.
Go to the Processes tab and locate a process associated with the malicious program.
Select the process and press End Task to kill it.
Exit the Task Manager.
Click Windows Key+E.
Check the following directories:
Desktop
Temporary Files
Downloads
Find a suspicious file you launched before the system got infected as it could have been the threat's installer.
Right-click the questionable file and press Delete.
Go to Desktop once more, right-click READ_IT.txt and press Delete.
Leave the Explorer.
Reboot the system.
In non-techie terms:
KKK Ransomware is a malicious threat that encrypts user's data and marks it with an additional .KKK extension, e.g. picture.jpg.KKK, text.doc.KKK, invoice.pdf.KKK, and so on. The infection's creators promise to provide a decryption tool, but in return, they ask you to transfer money into their account. The problem is there are no reassurances these cyber criminals will hold to their end of the deal as it is entirely possible they may not bother to send the decryption tool even if the payment reaches them. For this reason, we urge you not to take any chances and erase the malware with the removal guide we placed above or a reputable antimalware tool. Once the system is clean and secure, you can safely transfer copies of damaged data if you have any on removable media devices.