Do you know what Kiratos Ransomware is?
Kiratos Ransomware is part of the STOP Ransomware family, and it has joined such malicious and well-known threats as savefiles@india.com Ransomware, KEYPASS Ransomware, and INFOWAIT Ransomware. All of these infections are file encryptors, and when they encrypt files, they change data to make the files unreadable. Although the damage should be reversible with the help of a matching decryptor, it is highly unlikely that the victims of this malware would be able to restore their personal files. The infection we are discussing in this report adds the ".kiratos" extension to the files it encrypts, and a free decryptor for the used cipher does not exist. This means that the creator of the infection is the only one who has a solution. Of course, it is unlikely to be legitimate, but that might not matter to those who are desperate to recover their files. Unfortunately, decrypting files appears to be impossible, but removing Kiratos Ransomware is not.
According to our malware experts, Kiratos Ransomware is likely to exploit RDP backdoors and use misleading emails to spread. Once the launcher of the threat is executed, it starts performing in a malicious manner immediately. It was found that the threat can disable the Task Manager, which, undoubtedly, is meant to ensure that victims cannot discover and terminate malicious processes. If malware processes were ended prematurely, the encryption could be stopped. Additionally, it was found that explorer.exe could crash as well. At the beginning, Kiratos Ransomware opens a window that mimics a fake Windows Update installation window. Of course, even if Windows is set to update automatically, update windows should not just show up randomly, and so the window you see should worry you. Unfortunately, files are encrypted fast, and so victims are unlikely to delete the infection in time.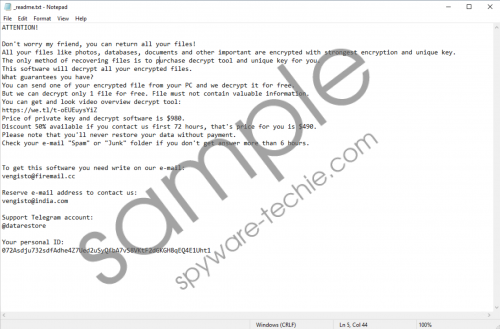 Kiratos Ransomware screenshot
Scroll down for full removal instructions
Once files are encrypted, a file named "_readme.txt" is created along with them. This text file displays a message from the creator of Kiratos Ransomware. According to it, a "decrypt tool and unique key" is what can restore files. The set price for this software is $980; however, it is stated that those who contact the attackers within 72 hours can pay $490. Without a doubt, this might seem like a good offer to those who want to get their files decrypted. To contact the attacker, the victims of the threat are urged to email vengisto@firemail.cc or vengisto@india.com, and they can also use Telegram (@datarestore). Although there are several options, we do not recommend contacting cyber criminals because that is unlikely to benefit you. The attackers could send fake software and malicious files, and if you pay the ransom, you will not get your money back. Instead of obeying cyber criminals, we suggest figuring out how to delete Kiratos Ransomware.
Your files will not be restored if you remove Kiratos Ransomware, but your operating system will become much safer, and you will be able to get back to daily activities. Hopefully, backup copies of all encrypted files exist, and you do not need to suffer a total loss. Otherwise, we do not have a solution for you. Obviously, if you want to protect your files in the future, back them up. Now, let's delete Kiratos Ransomware. If you can find the launcher file, delete the infection using the manual removal instructions below. Alliteratively, install an anti-malware program that will catch and eliminate the threat automatically. We recommend going with this option if you also want to employ a program that will protect you and your system against malware.
Remove Kiratos Ransomware
Find and Delete the malicious .exe file that launched the infection.
Delete every copy of the ransom note file named _readme.txt.
Tap Win+E keys on the keyboard to launch Explorer.
Enter %LOCALAPPDATA% into the field at the top (or %USERPROFILE%\Local Settings\Application Data\).
Delete the [random name] folders with the [random name].exe files inside.
Delete the file named script.ps1.
Exit Explorer and then launch RUN by tapping Win+R keys.
Enter regedit.exe into the dialog box and click OK to access Registry Editor.
Navigate to HKCU\Software\Microsoft\Windows\CurrentVersion\Run.
Delete the value named SysHelper (should point to the location of the malicious [random name].exe file).
Exit Registry Editor and then quickly Empty Recycle Bin.
Install a legitimate malware scanner to inspect your system and determine if leftovers exist.
In non-techie terms:
The malicious Kiratos Ransomware invades unprotected Windows operating systems just to corrupt files. Once they are encrypted, a ransom demand is represented via a .TXT file created everywhere where encrypted files are. Even if you are able to pay the requested sum, you have to contact the attackers first, and that is a huge risk because you do not know what they could expose you to. Furthermore, if you pay the ransom, that money is likely to go to waste. The attackers might promise you a decryptor, but their promises are likely to be empty. Unfortunately, it is a pretty unfortunate situation, but there is one thing you can still do, and that is to remove Kiratos Ransomware. We advise employing anti-malware software, but if you are confident in your skills and experience, try following the instructions above.