Do you know what Kingouroboros Ransomware is?
Kingouroboros Ransomware is a treat that enciphers victim's files and adds the .king_ouroboros extension at the end of each file's title. Later on, the malware shows a ransom note saying "Your files has been safely encrypted." It should also claim the user has to pay for their decryption and ask to contact the malicious application's creators to receive payment information. As you probably realize it yourself, there are no guarantees when dealing with cybercriminals, and it is entirely possible the situation could turn out to be even worse if you agree to pay the ransom. Therefore, we encourage our readers not to put up with any demands. Deleting Kingouroboros Ransomware may not decrypt any files, but it can give you a fresh start. In fact, if you have backup copies, you could even replace them with enciphered files and so recover your data. Naturally, before doing this make sure the malware is completely gone. To help you erase it manually we will place a removal guide below, but before sliding down, we would advise reading the rest of the article to learn more about this threat.
Our computer security specialists report the malicious program might be spreading via Spam emails or harmful file-sharing web pages. What's more, it seems to be Kingouroboros Ransomware might be pretending to be an update or an installer for Java. Consequently, we would like to remind our readers they should never accept any updates or installers sent via email, offered by suspicious pop-ups, or available on torrent and other untrustworthy file-sharing web pages. Users who are having hard times while separating unreliable content from legitimate one could employ a reputable antimalware tool. With it you could scan data coming from the mentioned sources and the tool should determine whether it is harmful or not. As you see it is usually too late when the user opens an infected file, so it is best to act with caution if you do not want to encounter threats like Kingouroboros Ransomware or other malicious software. At the very least, users should back up their data so they could recover it in case of emergencies.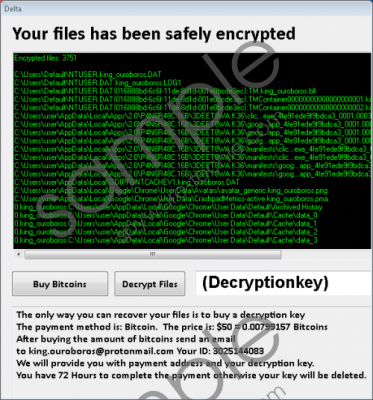 Kingouroboros Ransomware screenshot
Scroll down for full removal instructions
When entering the system, Kingouroboros Ransomware might create a few files and scheduled tasks in the directories mentioned in the removal guide available below. Its next task should be enciphering all user's files, which should be marked with an additional extension as well after the encryption. For example, documents called list.txt and chapter_one.docx should turn into list.txt.king_ouroboros and chapter_one.docx.king_ouroboros. Another thing our computer security specialists noticed is once the threat encrypts all targeted data it might open a window with a list of such files, a box to insert decryption key, buttons called "Buy Bitcoins" and "Decrypt Files," and a message we call ransom note. The text should say you have only 72 hours to pay for the needed decryption tools or else they will be erased. The requested sum is 50 US dollars converted into Bitcoins. To get further instructions on how to pay it the victims are asked to email the cybercriminals.
Nevertheless, knowing you could end up being scammed, we would not recommend risking your money. The Kingouroboros Ransomware's developers might not hold on to their word and if you do not want to risk being scammed, you should get rid of the threat. Our computer security specialists say it can be deleted manually if the user located and removes all files associated with the malicious application. If this task seems to be a bit too difficult the user could employ a reputable antimalware tool and perform a full system scan instead.
Eliminate Kingouroboros Ransomware
Press Ctrl+Alt+Delete.
Go to the Task Manager.
Find the malware's process.
Mark this process and click End Task.
Exit Task Manager.
Tap Win+E.
Navigate to:
%COMMONPROGRAMFILES%
%COMMONPROGRAMFILES(x86)%
See if you can locate executable files created by the malicious application, e.g., JAVA_UPDATER.EXE.
Right-click the malicious files and press Delete.
Then go to:
%WINDIR%\Tasks
%WINDIR%\System32\Tasks
Look for the files created by the malware, e.g., 3025144083.job.
Right-click them and select Delete.
Close File Explorer.
Empty Recycle bin.
Reboot the system.
In non-techie terms:
Kingouroboros Ransomware is a vicious threat that could turn your pictures, photos, videos, and other data alike into useless files. The malicious application does so by enciphering each file with a secure encryption algorithm. Meaning, such data can no longer be accessed without a particular decryption key and software. Unfortunately, the only ones who might have these means are the cybercriminals behind the malware. According to the ransom note left by the threat they wish to receive a payment in exchange for them; however, we would advise you to consider this option carefully as there is entirely possible the hackers could start to ask for even more money once they get the payment and may not bother to send the promised tools. Thus, if you do not want to risk being scammed, we believe it would be best to eliminate the malware. To help you achieve this, we prepared the removal guide available a bit above this text.