Do you know what KillDisk Ransomware is?
KillDisk Ransomware is an extremely dangerous program that will not allow you to operate your computer unless you remove it for good.This infection was created by cyber criminals who target financial institutions, so it is more likely that the program will infect banks or other companies rather than personal computers. Nevertheless, you should know more about this infection, just in case you would end up encountering it later on. Although it is not possible to revert the effects of this infection by removing KillDisk Ransomware from your system, keeping your PC safe and clean should be one of your top priorities.
Usually, ransomware programs are distributed via spam email campaigns. This infection seems to have a far more sophisticated distribution network that will make sure the target system gets infected no matter what. It is distributed by a hacker group called the TeleBots group. This group mostly targets big networks, and our research has shown that some of the specific targets have been banks in the Ukraine. The people behind this program send spam emails to targeted users, and those messages contain an Excel document. Now, if you work in a bank, the chances are that you deal with Excel files quite often.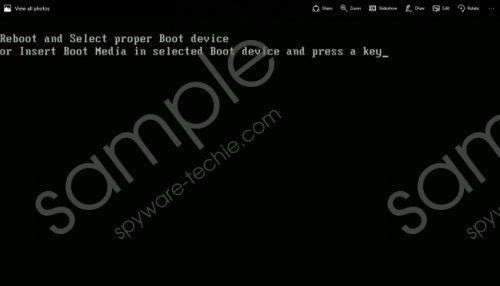 KillDisk Ransomware screenshot
Scroll down for full removal instructions
Therefore, the users responsible are tricked into thinking that the files that come with spam emails are necessary. They download those files, and they open them. However, this is not when the infection takes place. It requires certain conditions. You see, the Excel document comes with a macro that has to be launched in order for KillDisk Ransomware to enter target computers. Macros are disabled by default, so unless the user enables them, the infection would not be able to access the target system. Unfortunately, if the document looks important enough, users may enable macros without any second thought.
Once the macro is enabled, it drops a malicious file on the affected computer. This file is called explorer.exe, and the file itself connects to the Internet behind your back to download malware. During our research, we have found that the explorer.exe is a Trojan downloader written in the Rust language. Albeit ransomware programs could often be associated with Trojans, this is an obvious proof that with KillDisk Ransomware on your computer, you are in a deep trouble. What's more, there are several different versions of this infection, and whatever happens to your computer depends on the version that enters your system.
It should be pointed out that this program usually affects the entire network rather than just one computer. So it is easy to see that the Telebots group abuses legitimate servers to hide from security programs. For instance, the explorer.exe downloader can get data from a hardcoded URL that leads to a text file available at the putdrive.com service. This service allows anyone to upload and share files online, so it makes it hard to detect and identify the infection.
Once KillDisk Ransomware arrives at the target system, it employs a different set of tools to collect important information and steal user's credentials. Eventually, it can even steal the network administrator level credentials. Depending on the version you are infected with, you may see a ransom note, asking for 222 Bitcoins (which is a ridiculous sum of money), or the program could damage your OS, making it impossible to load your computer again. Then you would have to connect your hard drive to another computer and rely on a number of file restoration programs. However, it should be mentioned that if you are infected with the version that wipes out your hard disk, then the chances to get your files back are really slim.
So what about your files? It is always for the best to keep a file backup that will help you protect the most important data from such dangerous infection. Also, you can invest in a security tool that would help you remove KillDisk Ransomware from your system for good. Once again, please do not forget that deleting the infection does not automatically restore your files. If this infection severely damaged your operating system, you should refer to a computer security specialist, so see if anything could be done to save it.
How to Delete KillDisk Ransomware
Go to your Downloads folder.
Locate and delete the explorer.exe file.
Run a full system scan with the SpyHunter free scanner.
In non-techie terms:
KillDisk Ransomware is an extremely dangerous computer infection distributed by a malicious bot network. The program is directly associated with Trojan infections, and so coming across the application is not your idea of fun. It is important that you remove KillDisk Ransomware from your system as soon as possible, and then do everything you can to restore your system and your files. For any further question, please do not hesitate to leave us a comment below.