Do you know what KeyPlayer is?
KeyPlayer is yet another ad-supported application that has been spreading around the web lately. Some users might download and install this particular application due to dubious marketing strategies employed by the publishers of KeyPlayer. This particular application is a media player that should automatically download subtitles for videos and should play nearly all formats of video files. The truth is that there are a lot of trustworthy applications that can do that. KeyPlayer will certainly play videos just like any other video player but you will also be presented with various useless third-party commercial adverts. That will make surfing the web an annoying and frustrating process to say the least.Malware experts at Spyware-Techie.com recommend that you remove KeyPlayer from your operating system as it could serve as a gateway for other infections.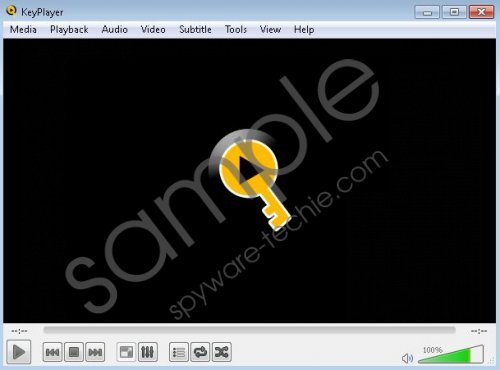 KeyPlayer screenshot
Scroll down for full removal instructions
KeyPlayer, which might be named KeyPlayr, is up for download on the official website; thus, it is plausible that some users download this application willingly believing that it will be useful. The other possibility is that your system was infected via bundled installer. It is well-known that KeyPlayer often comes bundled with applications like Linkey, default-search.net, YoutubeDownloader and others. Installers containing such applications are acquired from doubtful freeware download websites. These websites should be avoided at any cost if to keep your system secure and clean.
After successful invasion, KeyPlayer will start providing you with numerous third-party commercial adverts and annoying pop-ups. The adware application connects to various adware servers in order to do so. Often those servers might contain ads that are implemented with redirect links. Thus, it is plausible that you might be redirected to a fake online store that was setup by cybercriminals. Such online stores are used to steal sensitive data (credit card details, social security number, e-mail accounts, etc.). If you encounter an online shop that you have never heard of you should check reviews about it to make sure that it is a legitimate vendor. Theft of sensitive data could result in identity theft. It goes without saying that removal of seemingly harmless KeyPlayer is a must.
Virtual security should be an utmost priority to any computer user. Therefore, you should implement a professional antimalware program if you do not have on running already. Such tools provide the needed real-time security. Furthermore, a reliable antimalware tool will be constantly updated, thus, reducing the risk of getting your system infected significantly. If, unfortunately, KeyPlayer is present on your system, and you do not have a trustworthy malware detection and removal tool, please follow the manual removal guide that is provided below.
How to remove KeyPlayer
Remove KeyPlayer from Windows 7 and Windows Vista
Tap the Windows+R keys.
Then type Control Panel into the search box.
Click OK.
The select Uninstall a program.
Locate and double-click KeyPlayer to remove it.
Remove KeyPlayer from Windows 8
Tap Windows+Q keys.
Type Control Panel into the search box.
Tap Enter.
Click Uninstall a program.
Select KeyPlayer and click Uninstall.
Remove KeyPlayer from Windows XP
Click the Start button and select Control Panel.
Now click Add or Remove Programs.
Select and remove KeyPlayer.
In non-techie terms:
KeyPlayer just like any other adware application has no value to any user. It might only expose your operating system for further internet-based infections. In order to maintain a clean and secure system our team at Spyware-Techie.com advises you to implement a professional malware detection and removal tool.