Do you know what Keycoupons is?
Keycoupons is obviously an adware application. There are a lot of similar adware programs out there, and all of them are said to be created to help you shop online. In order words, Keycoupons is supposed to display coupons and discount offers that would allow you to purchase goods at an optimal price, thus helping you save money. However, the credibility of Keycoupons is highly doubtful, and if you see this application installed on your PC, remove Keycoupons as soon as possible. Various computer security issues are related to Keycoupons, so you should not risk it.
The presence of a homepage, but the inability to download an application directly is very common to adware programs. The same can be said about Keycoupons as well. You can access the main homepage via key-coupons.com, but if you click the download button you will be displayed a pop-up message which reads: "Sorry, our extension is down for maintenance and currently unavailable". Thus, if you have Keycoupons on your computer, it means you have installed it along with freeware apps you have recently downloaded from third party websites.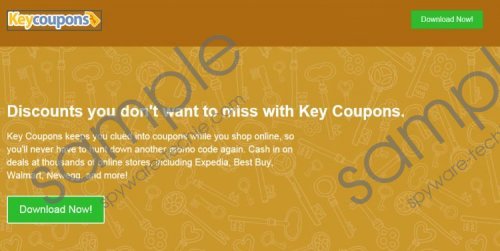 Keycoupons screenshot
Scroll down for full removal instructions
As far as the origins of Keycoupons go, the application is developed by Smart Apps, although the developer name may differ, some versions claim to be created by Engaging Apps, 215 Apps, Enchanted Apps and so on. Consequently, there is an extensive list of adware applications created by the same developer, including Discount Dragon, Savings Wizard, Savings Season, Bee Coupons and many more. From that we can infer that Keycoupons behave similar to other applications from the same family.
Upon the installation, Keycoupons changes Windows hosts file and installs extensions to all main browsers. Afterwards, it starts collecting data on your web browsing habits and displays various ads, discount coupons and other offers in commercial websites. There is also a Keycoupons banner that is often displayed at the top of a commercial (eBay, Amazon, BestBuy, etc.) website. Keycoupons is related to Advertising Support, and it can embed third party content to its adverts, which is definitely bad news.
Although Keycoupons does not intend to infect you with malware, we cannot be so sure about third parties that embed their content into the application's pop-ups. In order to protect ourselves from potential malware infections and various exploitations, we have to remove Keycoupons right now, ensuring that there are no other unwanted applications on board.
Scan your computer with SpyHunter free scanner for any residual files and then invest in a powerful computer security application. You need to be sure that your PC is protected against any potential threats.
How to remove Keycoupons
Windows 8
Move mouse cursor to the bottom right of the screen.
Click Settings on Charm bar and then go to Control Panel.
Select Uninstall a program and remove Keycoupons.
Windows Vista & Windows 7
Open Start menu and click Control panel.
Go to Uninstall a program and remove Keycoupons.
Windows XP
Open Start menu and navigate to Control Panel.
Select Add or remove programs and uninstall Keycoupons.
In non-techie terms:
Keycoupons displays a lot of commercial advertisements that are annoying and possibly dangerous. You need to avoid any potential computer security threats, so you have to remove Keycoupons immediately. Do not neglect your computer's security issues.