Do you know what Kee Ransomware is?
If you ever come across a program that goes by the name of Kee Ransomware, make sure to do everything you can to avoid it since acts in an extremely malicious manner. Just like any other ransomware application, this one can lock large amounts of personal data in a matter of minutes. It goes without saying that due to such functionality, you might be forced to face devastating consequences. Our malware experts have executed its in-depth analysis. Thus, in this report, we provide their findings, which will help you have a better understanding of how this ransomware functions. Additionally, we present a few simple yet effective virtual security tips that will allow you to keep your personal computer safe and secure at all times. Finally, you will find a detailed removal guide that you must use to delete Kee Ransomware in a quick and easy manner if it is ever found active on your personal computer.
Malware experts at Spyware-Techie.com have discovered that Kee Ransomware is one more malicious program based on the infamous Hidden-Tear project. This open source ransomware project is often abused by cyber crooks to create custom file-encrypting applications. Quite a few other ransomware programs are based on this devious project, the list includes applications such as Kindest Ransomware, Redants Ransomware, and CryptoKill Ransomware. Therefore, it is not surprising that all of them function alike. Once the malware in question gains full access to your personal computer, it will immediately start doing its dirty work. The encryption procedure is quick and silent; thus, the only user with advanced computer knowledge might be able to catch and stop this malicious program in action. Since your data is locked using a powerful cipher, manual decryption is out of the question. During the analysis our research team has discovered that this malicious program targets file types such as .txt, .mov, .mp3, .mp4, .wmv, .png, .jpg, .jpeg, .gif, .doc, and quite a few others. Each file affected by this malicious application will receive a . @kee extension. Once all of this is done you will be presented with a warning message that will tell you what has happened. It is important to note that cyber crooks do not ask for a ransom, but warn you that your data will be destroyed. To avoid that you need to refrain from restarting your PC. It should be self-evident that a complete removal of Kee Ransomware is essential if you consider yourself to be a security conscious user. Execute it by carefully following detailed instructions that we present below.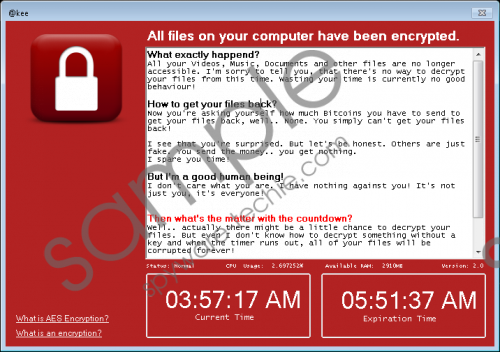 Kee Ransomware screenshot
Scroll down for full removal instructions
To avoid programs such as Kee Ransomware, you need to take a few precautionary steps. That way you will improve your overall system security. In order to limit the chances of coming across devious setup files while surfing the web, you must practice safe browsing habits. We firmly advise all Internet users to avoid questionable or otherwise suspicious download websites because they are infamous for hosting bundled installers, which are the primary source of devious software. Additionally, you should be aware of the fact that malware developers often use spam e-mail attachments to spread their malicious programs. Therefore, you should not download any attachments that are sent by suspicious third-parties. While practicing such safe browsing tactics will improve your virtual security, you must know that your best bet to have a fully secure system is by running a professional antimalware tool active on your personal computer. Such a tool is critical because it can detect and delete any virtual threat in a fully automated manner. Take these precautionary steps, and you will no longer have to worry about malicious programs.
The removal of Kee Ransomware is critical and should not be delayed under any circumstances. Remember not to restart your personal computer as that could corrupt your personal data once and for all. Follow the instructions that we present below with care. This is important because only a complete removal of Kee Ransomware will stop its malicious functionality once and for all. If you want to be sure that there are no leftovers linked to this malware active on your PC, we recommend executing an in-depth analysis of your operating system for anything linked to it. Such analysis should be performed as soon as you are done with the instruction below.
How to remove Kee Ransomware from your PC
Tap Alt+Tab on your keyboard and select Desktop.
Right-click your Task Bar.
Select Start Task Manager.
Select the malicious task and click End Process. Keep in mind that the name of this files is random.
Remove the following files that are located on your Desktop:
a) killsw32l.dll.
b) wallpaper.png.
c) Hello There! Fellow @kee User!.txt.
Open the File Explorer.
Delete a malicious file called msceInter.exe in the following folders:
a) C:\ProgramData\Start Menu\Programs\Startup.
b) C:\ProgramData\Microsoft\Windows\Start Menu\Programs\Startup.
c) C:\ProgramData\Application Data\Microsoft\Windows\Start Menu\Programs\Startup.
d) C:\Users\[your username]\AppData\Roaming\Microsoft\Windows\Start Menu\Programs\Startup.
Navigate to C:\Users\[your username]\Downloads.
Right-click a file called killsw32c.dll and then select Delete.
Right-click your Recycle Bin and select Empty Recycle Bin.
In non-techie terms:
If you are a user that finds manual removal and analysis of your operating system a bit too complicated, do not worry. Malware researchers at Spyware-Techie.com have crafted an alternative removal guide. By following these instructions you will be able to delete Kee Ransomware in an fully automated manner.