Do you know what Karmen Ransomware is?
If you see a window titled as Karmen Decrypter on the screen, you most likely infected the system with a malicious file-encrypting application called Karmen Ransomware. This threat was created for money extortion, and it may settle on computers that are not well protected, e.g. there is no legitimate antimalware tool installed, or it is already outdated. Needless to say, the malware enters the system uninvited, and it might be not so easy to get rid of it. However, the worst part is that even if you delete Karmen Ransomware, it will not unlock the files it already damaged. Still, we advise you not to pay the demanded ransom as there is no guarantee the infection's presented decryptor will work. In such case, users might end up with lost files and a lighter valet too. Therefore, we advise our readers to look for other possibilities to recover encrypted data and eliminate the ransomware. To do this manually, you could follow the removal guide placed just below the article.
Karmen Ransomware might be spread through suspicious email attachments, fake updates, malicious software installers, etc. Thus, if you received this threat, you should try to remember what was the last suspicious file you have opened since it is most likely the malware's launcher. To avoid similar threats in the future, users should scan files downloaded from unreliable sources with reputable antimalware software first provided they do not want to endanger the computer and data on it. A reliable security tool could guard the system not only from ransomware, but also from various other harmful applications, so it could help you in different situations.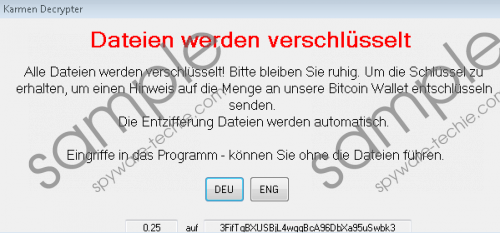 Karmen Ransomware screenshot
Scroll down for full removal instructions
What happens when you unknowingly open the infection's launcher? Firstly, the malware should silently begin the encryption process, during which the user's personal files like photographs, pictures, videos, Microsoft Word, Excel, or other documents, and so on might become unusable. Afterward, Karmen Ransomware should open a window with a warning from the malicious application's creators. It might tell you what happened to the files that were on the computer and explain to you how to fulfill the demands if you want to decrypt files. As we mentioned at the beginning, the window could be titled as Karmen Decrypter. Our researchers say the system shows it because of a particular file called decrypt.exe. The infection should drop it in the %TEMP% directory.
Furthermore, the malware could also create a couple of value names called DecryptFiles in the HKEY_CURRENT_USER\Software\Microsoft\Windows\CurrentVersion\Run and HKEY_CURRENT_USER\Software\Wow6432Node\Microsoft\Windows\CurrentVersion\Run directories. These particular value names should be set up so that the infection could launch itself again automatically if the user restarts the computer. The displayed note might say the locked files will be decrypted automatically if you make the payment, but as there are no guarantees, we would advise you not to risk your money. If you have no wish to put up with these demands, we encourage you not to waste any time with this infection and get rid of it immediately.
To erase Karmen Ransomware manually, users should follow the removal guide located below as it will tell them how to find and delete data related to the malware. Needless to say, this task might be difficult, so it might be best to use a reputable security tool instead. If you choose to acquire it, you could set the tool to scan the computer and detect the malicious application automatically. In case, there are more threats on the computer the antimalware software should locate it too. The best part is that users do not need to erase detections one by one since all identified threats can be removed with a single mouse click.
Eliminate Karmen Ransomware
Press Ctrl+Alt+Delete.
Choose the Task Manager.
Click processes and find a process called decrypt.exe.
Select it and press End Task.
Close the Task Manager.
Press Windows Key+E.
Find the malware's launcher, right-click it and choose Delete.
Go to this directory: %TEMP%
Look for a file titled as decrypt.exe, right-click it and select Delete.
Exit the File Explorer.
Press Windows Key+R.
Type regedit and click OK.
Navigate to these paths:
HKEY_CURRENT_USER\Software\Microsoft\Windows\CurrentVersion\Run
HKEY_CURRENT_USER\Software\Wow6432Node\Microsoft\Windows\CurrentVersion\Run
Locate value names titled as DecryptFiles, right-click them and press Delete.
Close the Registry Editor.
Then empty the Recycle bin and restart the computer.
In non-techie terms:
Karmen Ransomware might not only encrypt user's personal files but also annoy him each time the computer is turned on by opening its irritating window. As you probably realize it yourself, the only way to close the displayed warning is to eliminate the malicious application itself. Unfortunately, deleting the infection will not decrypt any files. Nonetheless, this is what we advise you to do if you do not want to risk your savings and pay the malware's creators. Those who choose to erase it manually can do so while following the removal guide placed above. The other way to get rid of the ransomware would be to download a reputable security tool and let it do the job for you.