Do you know what Kariloo is?
It may not be that obvious that a questionable browser extension called Kariloo has crawled onto your system and modified your Google Chrome browser, which could introduce you to potentially unreliable web content as a result. Our researchers have examined this extension in question in our internal lab and found that it is indeed a browser hijacker. As such, it may present to you unreliable search results by promoting questionable affiliates to generate revenue. You should always stick with reputable and popular search engines because innocent this search engine may look, you can easily click on corrupt ads or links on its search results page and cause further system security-related issues. But you may also end up on fake websites operated by cyber criminals, which always has the risk of being scammed and thus losing money from your bank account. If you do not wish to find out yourself what might happen in connection with this browser hijacker, we suggest that you remove Kariloo immediately from your browser and do the same to all other possible threats on your system, too.
It is most likely that you do not even recall installing this browser extension, which usually means one thing: You have installed a free software bundle lately and did not pay attention to the full content of the package. This is probably the main reason why and how unsuspecting users actually infect their own system with potentially unwanted programs as well as malware infections, such as browser hijackers, adware applications, keyloggers, backdoors, or even ransomware programs. You may not even know that one single click on the wrong web content can easily drop such a package onto your system even without your knowledge. This can happen, for example, when you end up on the wrong suspicious file-sharing site after searching the web for a free program or any other free or cracked file. Unfamiliar torrent and shareware pages can surprise you in a bad way with misleading content. It is not enough that such pages can be filled with annoying and dangerous third-party advertising, there could be ones that do not even look like ads. These contents are disguised to look like download buttons or navigational buttons as well as system notifications claiming that your system is under attack or that you need to install an update to be able to see the content on the page, and so on. Avoid such pages that are suspicious and promote questionable third-party ads. If you would like to make sure that your PC is clean, you should use a reliable online malware scanner right after you delete Kariloo from your browser.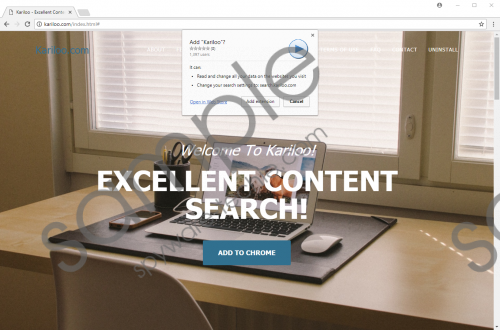 Kariloo screenshot
Scroll down for full removal instructions
We also need to mention that this browser extension is also directly available from its official page, kariloo.com, and the Chrome web store, chrome.google.com/webstore/detail/kariloo/kolmgecmpkacfnpeagnjgeomfpmbdjpb, but we doubt that you have ever seen these pages before. As a matter of fact, it seems that the number of computer users who may have installed this browser hijacker through these channels could be as low as 1,384. Do not ever be misled by finding an application in this web store or on an official page since cyber criminals can be quite deceiving and it does not take them too long to set up any page to promote their questionable products. This is why it is important to always do your research before downloading any file from the web.
As we have mentioned, when you install this browser extension, it sets its own questionable search engine (search.kariloo.com) as your default search provider. But this hijacker may also spy on you and gather sensitive data, including your e-mail address, IP address, browser information as well as information about your visited websites, what type of ads you like to click on, and so on. This profile can be used for sending customized content to your browser. Of course, a lot of legitimate tools use this technique today to provide you with content that would match your needs and interests. However, this can also be exploited by cyber criminals to fool you with fake content that would simply lure you onto their malicious pages. Since this browser hijacker can present to you altered search results by redirecting you to Yahoo to make you believe that you are on a trustworthy page, you could be exposed to unreliable ads and links. This is another reason why we recommend that you remove Kariloo right now.
Luckily for you, it is really simple to get rid of this annoying browser hijacker. Please follow our instructions below if you are not familiar with removing extensions from your Google Chrome browser. Do not forget that this could be only one of many infections on your system. If you want to be secure in your virtual world, it is essential that you erase all threat sources from your PC. It is possible that you do not have the proper IT skills to do this all alone. Therefore, we advise you to employ a decent up-to-date malware removal tool, such as SpyHunter, or any security software of your choice that you can really trust and find reputable enough for your needs.
How to remove Kariloo from your browser
Google Chrome
Press Alt+F simultaneously and choose More tools.
Go to Extensions.
Locate the questionable extension and click on the Trash can icon.
In the pop-up, press Remove.
In non-techie terms:
Kariloo is a relatively new useless Google Chrome browser extension that is supposed to provide you with "excellent search content"; however, it only provides you with a potentially risky search engine that can pose a threat to your system security. Our researchers say that this extension is indeed a browser hijacker that sets its own search engine as your default and thus expose you to potentially harmful third-part content on the search results pages it may show you. Although this tool is available for download from official sources, it is more likely to get infected with it via freeware bundles packed with other malicious threats. Therefore, we recommend that after you remove Kariloo, you also take care of all other possible threats as well. If manual removal is not your cup of tea, you may want to install a reliable anti-malware program as soon as possible.