Do you know what JZip is?
JZip is a potentially unwanted program that may have some annoying features. The application may also be associated with a variety of computer security threats, most of which could be avoided if you removed JZip from your system right now.
If you installed this application willingly, we would encourage you to reconsider keeping it on your computer. Although JZip is very far from being a genuine computer security threat, the program is linked with several security issues, and one certainly should not risk that. Your computer security should not be taken lightly, and you know it.
You can download JZip from jzip.com although we would not recommend doing that. Most of the complaints we receive about this program come from users who downloaded the application in software packages. This means that JZip can also be distributed bundled with other freeware applications, and, most of the time, users who download the affected third-party installers have no idea they are about to install this potentially unwanted program on their PCs as well. It would be a good idea to go through all the installation steps when you install a freeware application downloaded from a third-party source. Since JZip is not a malicious infection, you will probably be notified about the oncoming installation, and it would not be too hard to decline it.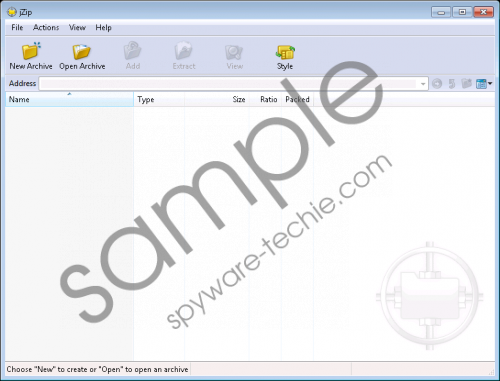 JZip screenshot
Scroll down for full removal instructions
As far as the functions of this application are concerned, JZip is a file compressor app that should be able to compress your files for more efficient transfer. According to the official website, JZip can "create, open and extract Zip, TAR, Gzip and 7-Zip" files. The program is also promoted as a "free and easy to use compression software that is based on 7-Zip technology." Then you can also find a line on the website that reads as follows: "JZip's interface is very simple, making it easy to create, open and extract many types of compressed files."
Why, then, are we so eager to see you remove JZip from your computer. The problem is that the application supports third-party advertisements to support itself and cover its development costs. The program can also collect information on your web browsing habits, and, according to its privacy policy, JZip can transfer this information to third parties. Here is an extract from the program's privacy policy: "You acknowledge and agree that JZip <…> will be entitled to retain any and all revenue generated from any use, sales, licenses, assignments and other transfers of the rights granted by You to JZip." In other words, by accepting to install this program, you agree to the fact it can make money out of you by displaying unsolicited third-party content.
This feature has nothing to do with the program's primary function, but it does not mean you should tolerate it. If you consider the fact that third-party ads are often exploited for malware distribution, you will see to it that JZip is uninstalled ASAP.
When you remove this program via Control Panel, you should scan your computer with a security tool because manual removal usually leaves some junk files you need to take care of. If you are not a computer security expert, it is for the best to leave it for a professional antispyware application.
How to Remove JZip
Windows 10, Windows 8.1 & Windows 8
Press the Windows key + R for the Run command prompt to open.
Type "control panel" into the Open box and press OK.
Select Uninstall a program and remove JZip.
Windows Vista & Windows 7
Click the Start menu and go to Control Panel.
Select Uninstall a program and remove JZip.
Windows XP
Press the Start menu button and navigate to Control Panel.
Select Add or remove programs and uninstall JZip.
In non-techie terms:
JZip is a program that you are better off without. It may not be an actual computer infection, but there are far too many suspicious things about the application to trust it. Not to mention that JZip can also spy on your web browsing habits and then leak the information to affiliated third parties. If you do not remove JZip right now, it would not be surprising if the program would eventually expose you to severe security threats. While this is not what the application wants to achieve, such possibility surely exists.