Do you know what JustMineIt is?
JustMineIt can appear to be an innocent Google Chrome browser extension; however, under the surface, this cryptocurrency miner may not even work for you at all. Our researchers say that this program may do mining for cyber crooks while making you believe that it is all for you. Another disadvantage of this program is that it uses way too much CPU power to do its operations. This could seriously influence your system performance and may even become annoying. We have labeled this threat as a potentially unwanted program, or PUP, because we did not find any malicious activities. Nevertheless, we have found that this program can collect information about you and even send questionable third-party ads to your screen. Therefore, we suggest that you act now and remove JustMineIt from your computer. For further information, please continue reading our report.
In all fairness, this PUP is promoted as a legitimate miner and is available for installation on its official webpage, justmineit.com, and the Chrome web store, chrome.google.com/webstore/detail/justmineit/fmplbcpickpcmkiijagncogoclaiodjb. Of course, this does not necessarily mean that you are dealing with a reliable program since schemers can set up an official website anytime. So even if you installed this PUP through these channels, we recommend that you delete it.
What our researchers believe the most likely way is for you to let this extension on board is via free software bundles. Bundling has become one of the major distribution methods for schemers to spread PUPs as well as malware infections far and wide. Such bundles can be promoted on lots of different sites using deceptive methods, such as fake buttons, fake notifications, and other third-party contents. Landing on an unfamiliar file-sharing website you may believe that clicking one of the four download buttons you will download your targeted file; however, instead, you may simply drop a bundle filled with dangerous threats. The same can happen to you when clicking on corrupt third-party content on any suspicious website, including gaming, betting, video streaming, and pornographic pages. You can also be exposed to such unsafe third-party contents when your computer is infected with adware, for example. This is why it is important that after you delete JustMineIt, you also run a proper online malware scanner to find all possible threat sources on your PC.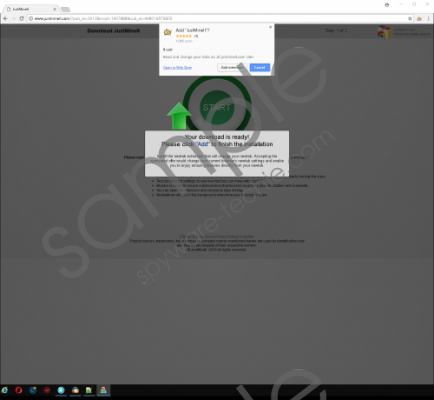 JustMineIt screenshot
Scroll down for full removal instructions
This PUP is designed to mine cryptocurrency like Monero. It uses your CPU as its power source but your browser needs to be launched for it to be able to operate. This tool provides you with a set-up window where you can supposedly configure how much speed (or CPU power) mining can use, but we are not convinced that it matters at all. As a matter of fact, our researchers say that this PUP may do mining for others like cyber crooks, instead of just you. We have also found that this program can gather data about you and maybe use it to display customized third-party ads on your screen. Please note that it is always risky to click on third-party ads coming from a questionable source. Thus, we suggest that you remove JustMineIt as soon as possible.
If you want to take care of this questionable extension manually, you can follow our instructions below. Please keep in mind that this PUP could be the least worrisome on your system right now. If you leave any questionable program on board, you could be exposed to more malicious web content while surfing the web. We believe that it is essential that you clean your system from time to time to keep it secure. If you need an efficient method to do so and to protect your PC from future attacks, we advise you to employ a reputable anti-malware program, such as SpyHunter. But even if you are the lucky one to have such a great automated tool to take care of your protection, it is still important that you update all your programs and drivers to stop cyber criminals from accessing your system through outdated security holes.
Remove JustMineIt from your browser
Google Chrome
Tap Alt+F and select More tools.
Choose Extensions.
Locate the undesirable extension in the list and click on the Trash icon on the right.
In the confirmation window, press Remove.
In non-techie terms:
JustMineIt is an annoying Google Chrome browser extension that is used for mining Monero cryptocurrency. As you may know, mining is a growing business since keeping up a cryptocurrency requires immense CPU power and this is why individuals are also involved. While lots of miner programs operate without the consent or knowledge of the PC users, this one is at least available officially. Our researchers have found though that it may still mine for others and not necessarily for you. This PUP may also collect information about you and your browsing habits, and display third-party ads for you while you are surfing the web. Engaging with these ads could be risky since you might infect your computer or end up being scammed. This questionable tool can slow down your computer so much that using it could become rather disruptive. We advise you to remove JustMineIt from your system as soon as you can so that you can get back control of your PC. If you want to defend your computer against similar and more dangerous threats as well, we suggest that you install a reliable anti-malware program.