Do you know what JumpFlip is?
JumpFlip is a browser extension created by Super Web LLC. We have already analyzed numerous of highly suspicious application created by this company, and most of them are considered to be adware. As you may know already, advertisement supported programs are usually tightly affiliated to undisclosed parties, which is why you need to be extremely cautious about running them. As a matter of fact, we recommend having JumpFlip deleted from the operating system, or making sure that BetterBrowse, Kozaka, and other Super Web applications are removed. Continue reading to learn more about the suspicious application and why getting rid of it is the best thing for you.
Some computer users have visited jumpflip.net in the past. It is possible that you have landed on this page as well when researching the suspicious browser plugin which is now running on your Internet Explorer, Google Chrome or Mozilla Firefox browsers. The website presents the features of the application, as well as the privacy policies related to it. Nonetheless, we recommend that you pay more attention to the privacy policies because they can disclose how the program truly works. For example, it is revealed that the pop-ups, deals and related searches are supported by third parties. Unfortunately, it is impossible to know who stands behind the title 'third parties'. What if it were schemers? In this case, your virtual security could become extremely vulnerable.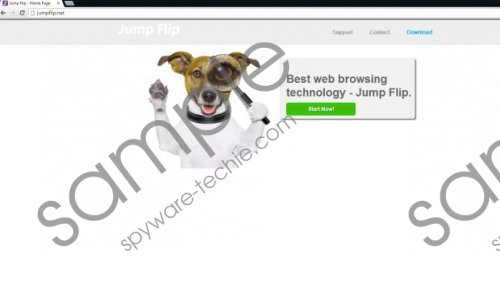 JumpFlip screenshot
Scroll down for full removal instructions
It is extremely important that you delete JumpFlip from all affected browsers if you are not familiar with the application and you do not know where it has come from. Have you found the information presented within this article disturbing or at least alarming? Then you should reconsider using the services of an add-on which is not considered to be reliable. Please follow the instructions below to remove JumpFlip from the Windows operating system. Afterwards proceed with the installation of automatic malware detection and removal software in order to ensure that your virtual security is reinforced by the most reliable tools.
JumpFlip Removal
Remove from Windows 8:
Tap the Windows key to access the Metro UI menu and right-click.
Select All apps and open the Control Panel.
Go to Uninstall a program and right-click the undesirable application.
Select Uninstall to delete it from the PC.
Remove from Windows Vista and Windows 7:
Open the Start menu from the Task Bar and select Control Panel.
Click Uninstall a program and locate the undesirable one.
Right-click the program you want to delete and select Uninstall.
Remove from Windows XP:
Move to the left of the Task Bar and click Start to open a menu.
Select Control Panel and double-click Add or Remove Programs.
Remove the undesirable software.
In non-techie terms:
According to the recent research, JumpFlip is an unreliable extension which promises to display allegedly beneficial pop-ups and advertisements. Unfortunately, these are served by third parties, and trusting them could be dangerous. If you wish to keep the plugin running on the PC, we recommend that you install authentic security software to ensure that malicious activity is detected and terminated in time.
Aliases: Jump Flip.