Do you know what Jsd.pathjava.net is?
Jsd.pathjava.net is a dubious adware server that usually presents users with a malignant pop-up. In most cases, the web browser connects to this server because infection is already on the operating system. In any case, any connections to Jsd.pathjava.net are bad news. To avoid this, you should remove any questionable applications from your computer and practice safe browsing habits because it is not unlikely that Jsd.pathjava.net server is prompted by suspicious websites. To find out more about what this detrimental server does read the article.
As discussed earlier, connections to Jsd.pathjava.net could indicate that other infections are present on your system. Note that mainly untrustworthy download websites provide bundled software that could contain adware within the setup wizard. You should avoid any suspicious websites while downloading your software. Vendors often provide direct download from their official website; remember that it is your best bet to avoid bundled software.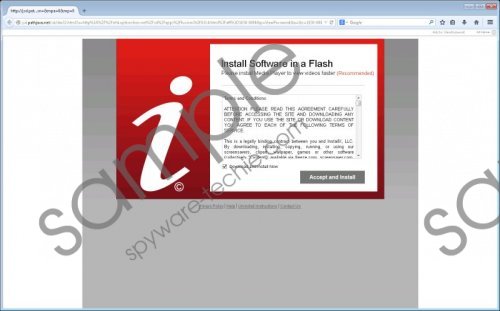 Jsd.pathjava.net screenshot
Scroll down for full removal instructions
This goes hand in hand with the concept of safe browsing habits. Not only downloads could be corrupted. Websites could also be corrupted; thus, you could be connected to Jsd.pathjava.net just by browsing shady websites that might redirect to this dubious server. Therefore, running a professional antimalware tool while browsing the web is must, as it provides real-time security that can detect and remove various new threats instantly.
If by any chance you encounter the malicious Jsd.pathjava.net pop-up there are a few things you should know. The pop-up closely resembles an update installer design of the usual Java update. It displays a warning message, which states that your so called Flash player is outdated, thus if you want your browser to be up to date you need to install the update urgently. If the user agrees to install it, he will be redirected to a download website – updatenowpro.com. This fictitious update does one thing, and one thing only – exposes your PC to other infections like browser hijackers, potentially unwanted applications, adware, etc.
In addition, the Jsd.pathjava.net server is capable of showing commercial adverts. If your web browser has a constant connection with this dubious server it is very likely that you will be displayed random advertisements on random websites; thus making browsing the web an annoying and frustrating process.
The only piece of advice that our skilled malware experts team can offer is that you should check your system for any potential malware running on your PC. Locating malware manually is a challenging task even for virtual security professional. Thus, we believe that the best and fastest way to detect them is by using an automatic malware detection and removal tool. If the antimalware tool detects any potential threat, it will remove it instantly.
How to remove an undesirable program
Remove from Windows 8
Tap Windows key+Q simultaneously on your keyboard to access the search bar.
Type in Control Panel and tap Enter.
Select Uninstall a program.
Find the undesirable application in the program list and uninstall it.
Remove from Windows 7 and Windows Vista
Tap the Windows key on your keyboard and using the mouse select Control Panel.
Now click Uninstall a program.
The undesirable program is within the list of programs, locate it and uninstall it.
Remove from Windows XP
Tap the Windows key on your keyboard.
Select Control Panel.
Click Add or Remove Programs.
Locate the dubious program and remove it.
In non-techie terms:
If you wish to have a secure system we strongly advise you to acquire a professional antimalware tool ASAP. Safe and clean operating system is of utmost importance because a lot of important data, whether it is personal or business related, is stored on your hard drive, so without a licensed tool you risk exposure and data loss on a daily basis.